Going on a hike with elephants in Thailand has always been a bucket list activity that I wanted to do. However, I had heard multiple horror stories of elephants being chained up on the side of road for tourists to ride and feed. I knew I would never forgive myself if I supported an activity like that.
I spent a month doing research on how I would be able to avoid these cruel encounters, but still fulfill my bucket list. There seemed to be a lot of options that were outside of the main tourist areas to have an ethical encounter with these magnificent animals
[mkdf_elements_holder holder_full_height="no" number_of_columns="one-column" switch_to_one_column="" alignment_one_column=""][mkdf_elements_holder_item]
Finding an Ethical tour to Hike with Elephants in Thailand
After all my research I finally decided that the best option for me would be through the Elephant Nature Park. This wildlife sanctuary was originally started in the northern part of Thailand in the city of Chiang Mai with a goal of providing a sanctuary and rescue elephants for animals. Elephant Nature Park has continue to grown and multiple locations can be found all of Thailand and even in Cambodia.
Not only is Elephant Nature Park focused on elephants, but they participate in other conservation efforts. They plan to reforest land at some of their parks, and they have a dog rescue located at the main park.
Another great perk that Elephant Nature Park is that they have a huge variety of tours. They have day visits, overnight visits, and if you are really looking for a great volunteer option they have 7 day experiences. Day visits can include elephant feeding, hiking, and bathing.
With the time I had planned in Thailand I knew that if I were to visit I would only be able to spend a day with the elephants, but it was totally worth it!
[/mkdf_elements_holder_item][/mkdf_elements_holder]
What to Expect on a One Day Hike with Elephants in Thailand
I booked tickets specifically to Chiang Mai to see the elephants, luckily traveling through Thailand is really cheap! I was not sure if I wanted to do the main facility or try to experience one of the smaller facilities. I ended up choosing one of the smaller facilities, and I think this made my experience much more enjoyable. Visiting the main facility there is about 60 people per group, while visiting the smaller facility it was limited to 12. For a full day elephant experience it cost me 2500 THB, or about $83 USD. This included my transportation, entrance fee, all of the animal feed, and a light lunch.
Arriving at the main office in Chiang Mai was… well a challenge. Our taxi driver had no idea what we were talking about, and honestly google maps did not pinpoint us to the right direction. Luckily, a friendly local pointed us to the correct spot. At the check in office they provided us with fresh juice and a few small snacks. We then hopped in the van and and stopped at a couple nearby hostels to pick up other guests. It is not a short ride to the sanctuary by any means, it is about a 2 hour drive. Luckily the van has A/C and bottles of water.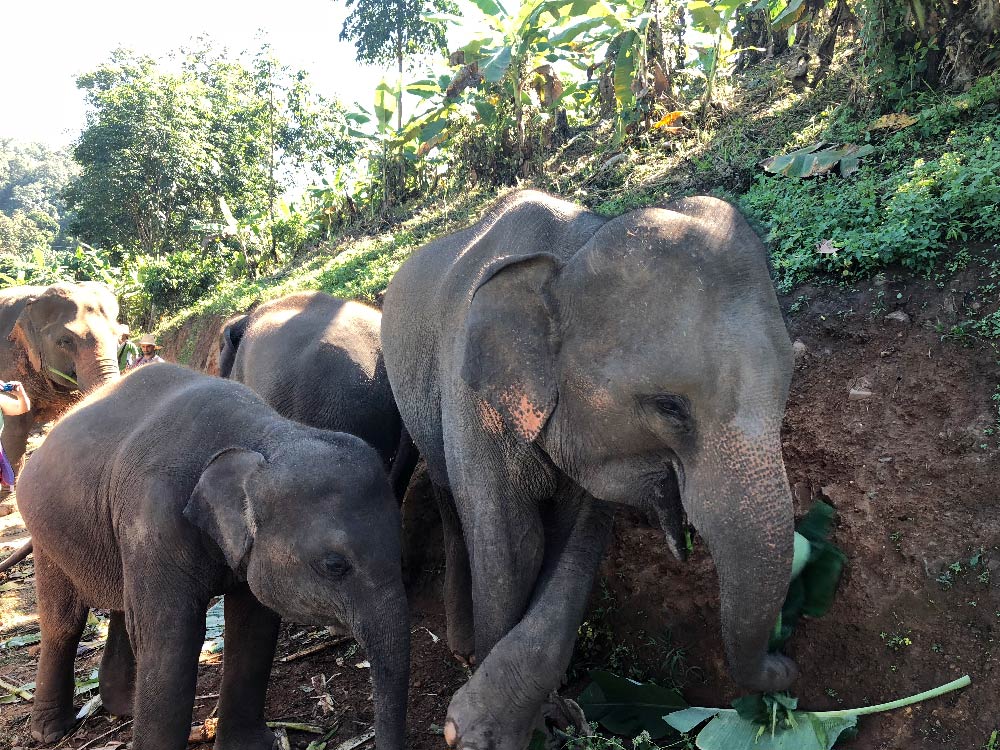 Once we arrived at the facility we were greeted by a group of friendly staff who went over all of the safety rules that we must follow while being around the elephants. After that small talk it was finally time to meet the elephants!
Everyone was provided sandals, and a large canvas bag that was full of sugarcane (the elephants favorite snack). The staff introduced us to the 5 elephants that we would be going on a hike with, one of them was the cutest baby elephant.
We spent a few minutes feeding the elephants so that they would get used to being around us. Once they were acclimated we started our hike through the beautiful jungle. One of the elephants seemed to really like me… or maybe he just liked me for my snacks, but he stayed with me for most of the hike. We reached a spot on the top of a hill that had a beautiful overlook of the sanctuary, and took a small rest.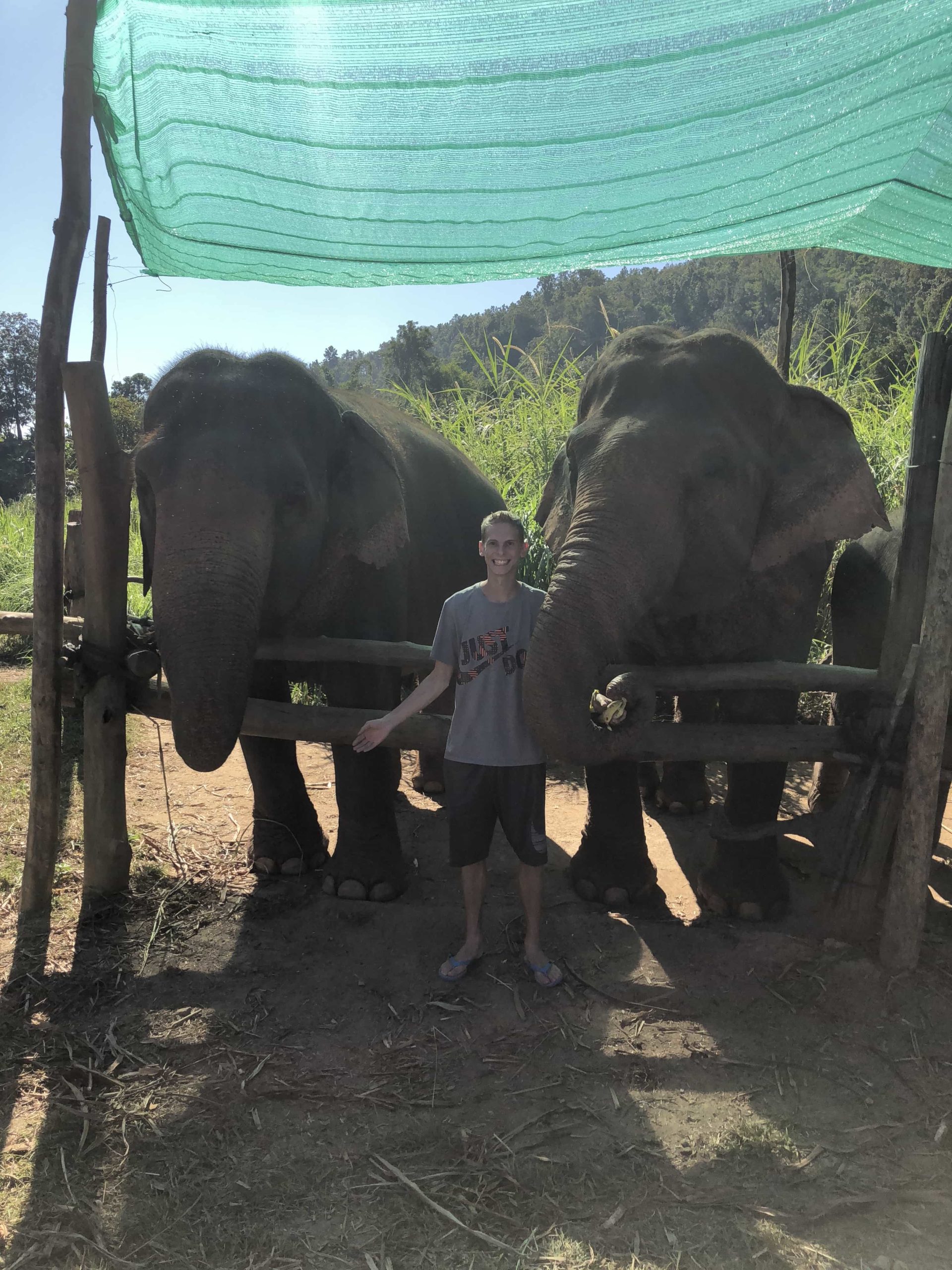 After a short break, and a good opportunity to get some good photos of the elephants it was time to head back down to the sanctuary. We took a different path this time that led to a small stream. The elephants were loving the water! There were a few times where we just stopped and watch the elephants spray water at each other. They seemed like they just wanted to hangout for the rest of the day in the stream.
Once back at the sanctuary the elephants went back to their pasture to hang out in while the rest of us were served lunch. Lunch was pretty good, a buffet style meal with options for everyone, which we thought might be originally an issue with my bestfriend since she is vegan. It was a good time to connect with everyone else who was in our group and we were able to meet some people from all over the world. Some of them even invited us out once we got back to Chiang Mai.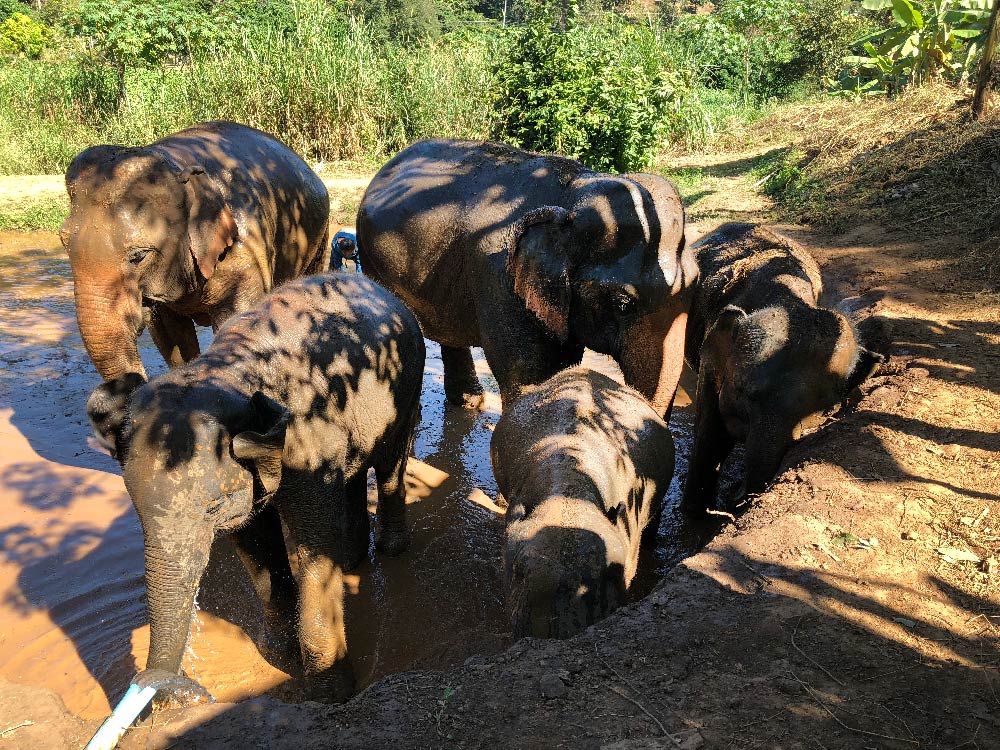 Once we were all done with lunch we were told that we were going to help give the elephants a mud bath. The staff provided us clothing to help us get less dirty… I would still recommend that you pack an extra set of clothes with you because you will have mud everywhere. We walked down to a dirt hole that started to fill with water, and we were able to rub mud all over the elephants. They seemed to be getting themselves a free spa day. There may also have been a few mud balls thrown between us all.
Once they were covered with mud it was time for their final bath. I was not expecting what was to come. We all walked down into the river and started washing the elephants off. Next thing I knew a giant water fit entailed. Elephants were spraying us and all of us were throwing water at each other. Eventually after 10 minutes of water being thrown we were all drenched.
Sadly it was time to say goodbye to my new elephant friends and head back to Chiang Mai. There was a shower that everyone could use to rinse the dirt off and change into fresh clothes. Snacks were provided for the trip back, but honestly after being in the sun all day as soon as I sat down in the car I fell asleep.
To hike with elephants in Thailand was a dream, but I can only imagine the next time I return and try the multiday experience.
Essential Items for Thailand