Denali National Park is known for its vast landscape, wildlife, and the chance to see Denali. Visitors flock from all over the world for the chance to see this amazing National Park. In this blog post I will share with you all the essential information you need for camping in Denali National Park. 
I visited Denali National Park in June of 2021, and I want to give you my first hand experience of planning my camping trip so that you can get the best trip possible. Denali National Park is one of the more difficult parks to plan for because of the limited modes of transportation, remoteness of the park, and the quick changing weather.
[mkdf_elements_holder holder_full_height="no" number_of_columns="one-column" switch_to_one_column="" alignment_one_column=""][mkdf_elements_holder_item]
How to get to Denali National Park
The easiest way to get to Denali National Park is going to be renting a car and driving from either Fairbanks International Airport or Anchorage International Airport. From Fairbanks International Airport it is about a 2 hour drive and from Anchorage International Airport is about a 4 hour drive. I highly recommend making sure that there are rental cars available for your dates before booking, as people plan trips far in advance.
Check out my 7-day Road Trip Itinerary from Fairbanks to Anchorage Here. 
A secondary option is to take the Alaskan Railway. The Alaskan Railway departs from both Fairbanks and Anchorage and makes a stop at Denali National Park. Although on the pricier side of things this is a great option if you are not able to get a car reservation. The train will drop you right inside of Denali National Park, and there is a transfer bus that can help you explore more of the park.
[/mkdf_elements_holder_item][/mkdf_elements_holder]
Getting Around Denali National Park
Taking a rental, or personal car can only get you so far into Denali National Park. Usually only about 15 miles within the park, unless you have a special permit. To continue into the park there are two options, the Denali non-narrated bus and the Denali Narrated bus. 
The non-narrated bus (they are painted green) will cost you around $65 dollars and takes you all the way to the Eielson Visitor Center. The best part about this bus is you can hop on and off whenever.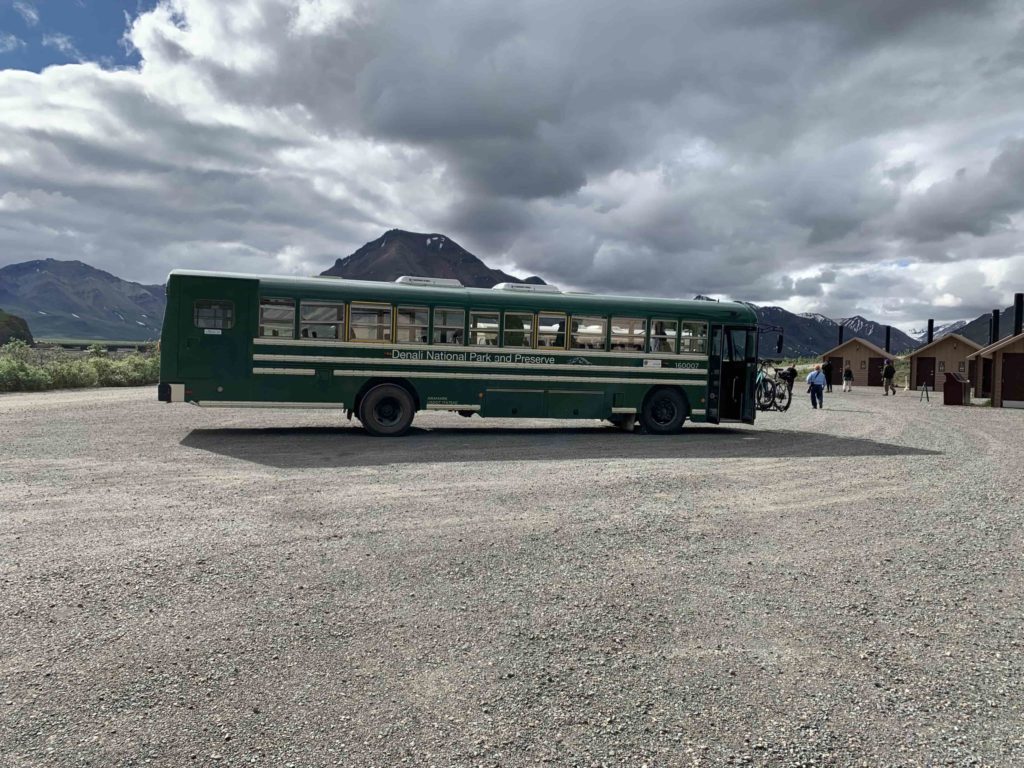 The alternative is the narrated bus (they are painted tan) which will cost you $162 dollars. With this tour you do get a little more information, and it will take you to the Eielson Visitor Center as well.
All the bus tours are operated by a third party and can be bought online. 
I suggest taking the non-narrated bus, you will still stop for any wildlife that is seen such as bears, moose, caribou and your driver is just as knowledgeable. It is night to be able to hop out and hike whenever. From the entrance of Denali National Park to the Eielson is about 6 hours, so plan for a whole day adventure. 
When to Visit Denali National Park
Denali National Park is open year round, however the park is much more difficult to visit in the winter months. The park's busiest season is between late May and mid-September. My favorite time to visit Denali National Park is in mid-June. This is when the weather is nice, but there still is a chance of some snow patches, which usually makes the park a little bit less crowded.
During the winter months most of the activities within Denali National Park, such as the transit bus, do not operate. The winter months do offer some unique activities such as dog sledding, and skiing. 
The exact start and end date of the transit buses within Denali National Park change every year depending upon the weather. It is best to check the park website as it will give you the exact dates for the year.
Weather in Denali National Park
With Denali National Park being over 6.1 million acres in size the weather can be vastly different depending upon the part of the national park you are visiting. It can be raining at the entrance of the park, but at the Eielson visitor center it could be sunny.
The summer months (Late May through August) usually bring in perfect outdoor temperatures between 33 to 75 degrees Fahrenheit. During the days when the sun is out the weather is perfect. Even though there is more sunlight during the summer months, the nights still cool off. The summer months are also the rainiest months, so be prepared with rain gear.
If you decide to brave Denali National Park during the winter months expect temperatures to get down to -40 degrees Fahrenheit. Make sure to pack all the right snow and winter gear when visiting in the winter, as you will not be able to do much without it.
Where to Camp in Denali National Park
Denali National Park has 6 designated campgrounds which are all found along the 85 mile road into the park. Some campsites require taking the transit bus to reach the site and do not allow you to drive a personal vehicle. If you plan on camping in Denali National Park I would suggest reserving your site as soon as possible. There are a limited number of sites, and during the summer they go fast. 
Best Site for Families
Planning on bringing the kids to go camping in Denali National Park? The park has a few great options! It is hard for kids, especially younger ones to sit still on a longer bus ride. Riley Creek Campground is located right at the entrance of Denali National Park. It has both tent sites, and RV sites. Another great feature is the Riley Creek Mercantile. This is a little store that has all the essential items (wood, food, etc.) that you would need as well as a shower house. This is the only one like this in the park.
Another great option is Savage River Campground. This campground is a little farther into Denali National Park, however you are able to drive a car to the site. Similar to Riley Creek it has RV and tent sites, however no little store.
Best Site for Extended Stays
With the size of Denali National Park being so large, many decide to stay for an extended time. If you plan on camping in Denali National Park for more than 3 days, the best site to stay at is Teklanika River Campground. This campground is about 30 miles into the park. 
One of the main reasons that I highly recommend this campground for an extended stay in Denali National Park is that normally a transit bus is required to reach the campground. However, if you plan on staying longer than 3 days you are able to take your car or RV to this campground.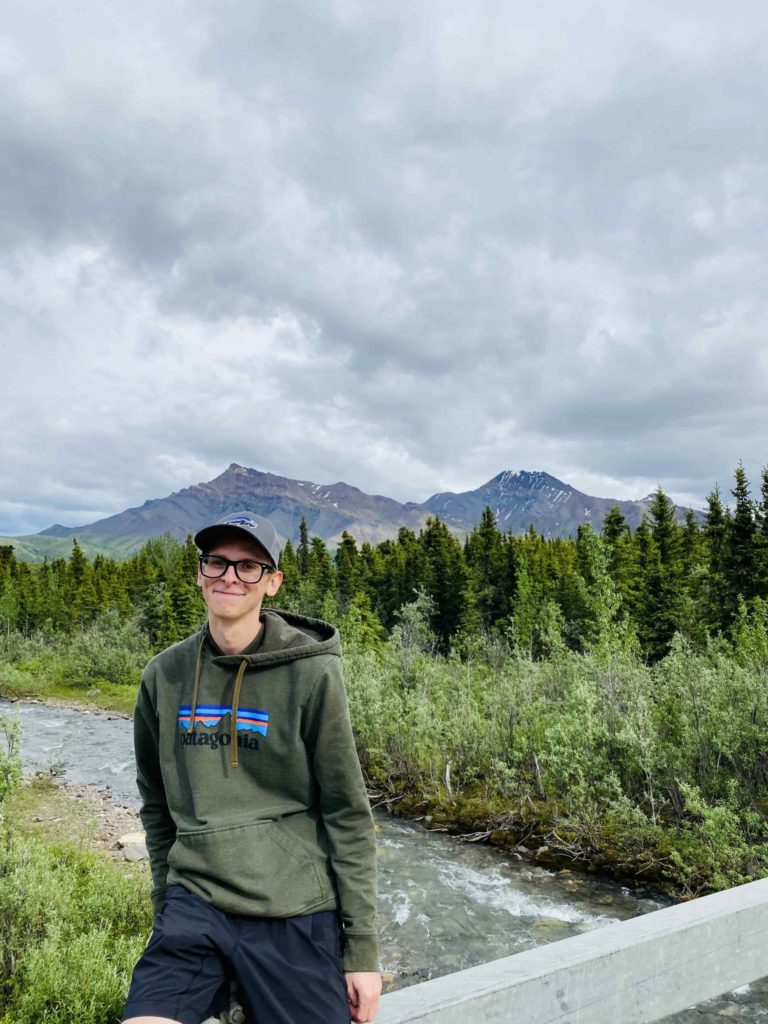 Best Site for Adventure
If you are planning on camping in Denali National Park and you want to pick the most adventurous site, Wonder Lake Campground is the best option. Wonder Lake is located at mile marker 85 this 28 campground site takes the longest to get to at about 6 hours via transit bus each way.
The long bus ride is worth the views, it is located on a beautiful lake and during a cloudless day you have the opportunity to see Denali. Not only is the landscape beautiful, but there is also the chance to see some great wildlife nearby.
Pack light as you need to carry everything into your campground. 
Best Site to See Denali
Wanting to see Denali? Plan on camping at either Wonder Lake Campground or Savage River Campground. On a clear day you can see Denali at both campgrounds. Savage River Campground is located close to the entrance and accessible via car, while Wonder Lake Campground 
If you are not able to get a reservation at either of these campgrounds you can still head to Eielson Visitor Center to get a good viewing of Denali.
Best Things to See and Do in Denali National Park
Take an Adventurous Hike – Denali National Park is one of the few parks in the United States that you can truly hike anywhere. There are designated trails, but you are also allowed to hike off trail throughout the park. Just make sure to watch out and be respectful of wildlife.
Visit Eielson Visitor Center – This visitor center is worth the visit (even if it is closed). The location gives a great view of Denali when there is not a lot of cloud coverage.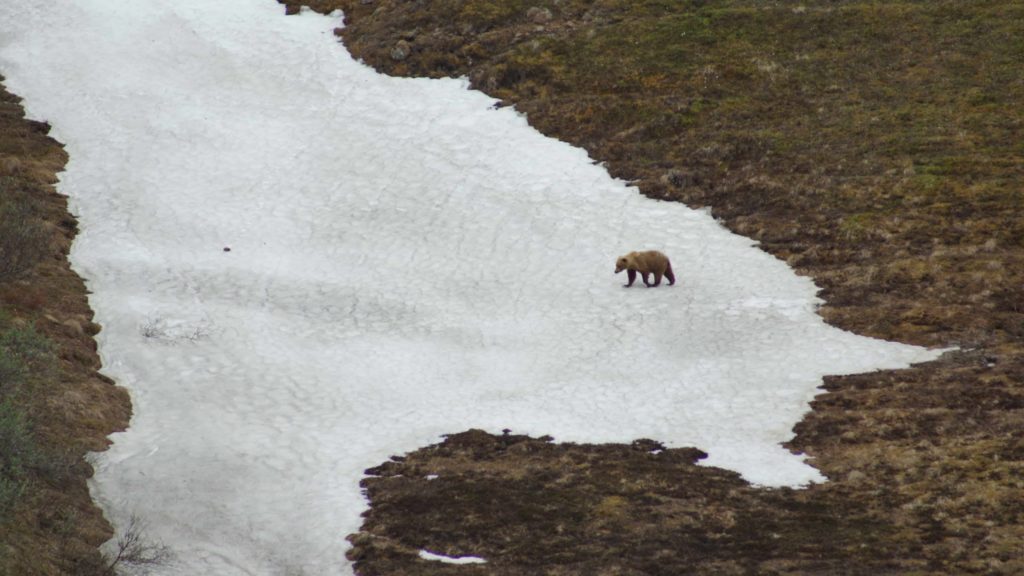 Spot Wildlife – Bears, moose, caribou… these are just some of the magnificent animals that you can spot in Denali National Park. Bring a good pair of binoculars because sometimes they are pretty far from the bus. 
Camp in Denali National Park – I can not stress this enough! Denali is amazing, but camping in Denali National Park must be on your bucket list. Camping will allow you to really explore more of the park than just a short quick visit.
No matter what your plans are, Denali National Park is a bucket list park for all types of adventurers.