An Alaskan road trip had always been on my bucket list, and when I saw cheap flights I decided to hop on the opportunity. I decided to ask my two best friends if they wanted to explore Alaska with me and they said yes. Over the next few months we took a lot of time figuring out exactly what we wanted to do, and what we wanted to see. Below is our 7 day itinerary on an Alaskan road trip from Fairbanks to Anchorage.
Flights into Fairbanks, AK tend to land at inconvenient times. Unless you're flying from the Pacific Northwest you will most likely land in Fairbanks in the later afternoon or evening. Although landing at night isn't the best, we weren't rushing through the airport to try to get to our destination in a time crunch.
We grabbed our bags from the terminal and went to collect our rental cars. There were 5 of us traveling, so we had originally booked two cars. One from Enterprise, and one from Budget. Long story short Budget didn't have any cars even though we had a reservation, and luckily we managed to fit 5 adults and luggage all into the car from Enterprise.
We decided to stay downtown Fairbanks at the SpringHill Suites. Although we were only staying for the night the location was great and there was a small street festival going on. We grabbed some late night snacks before heading to bed since we knew we had an early morning.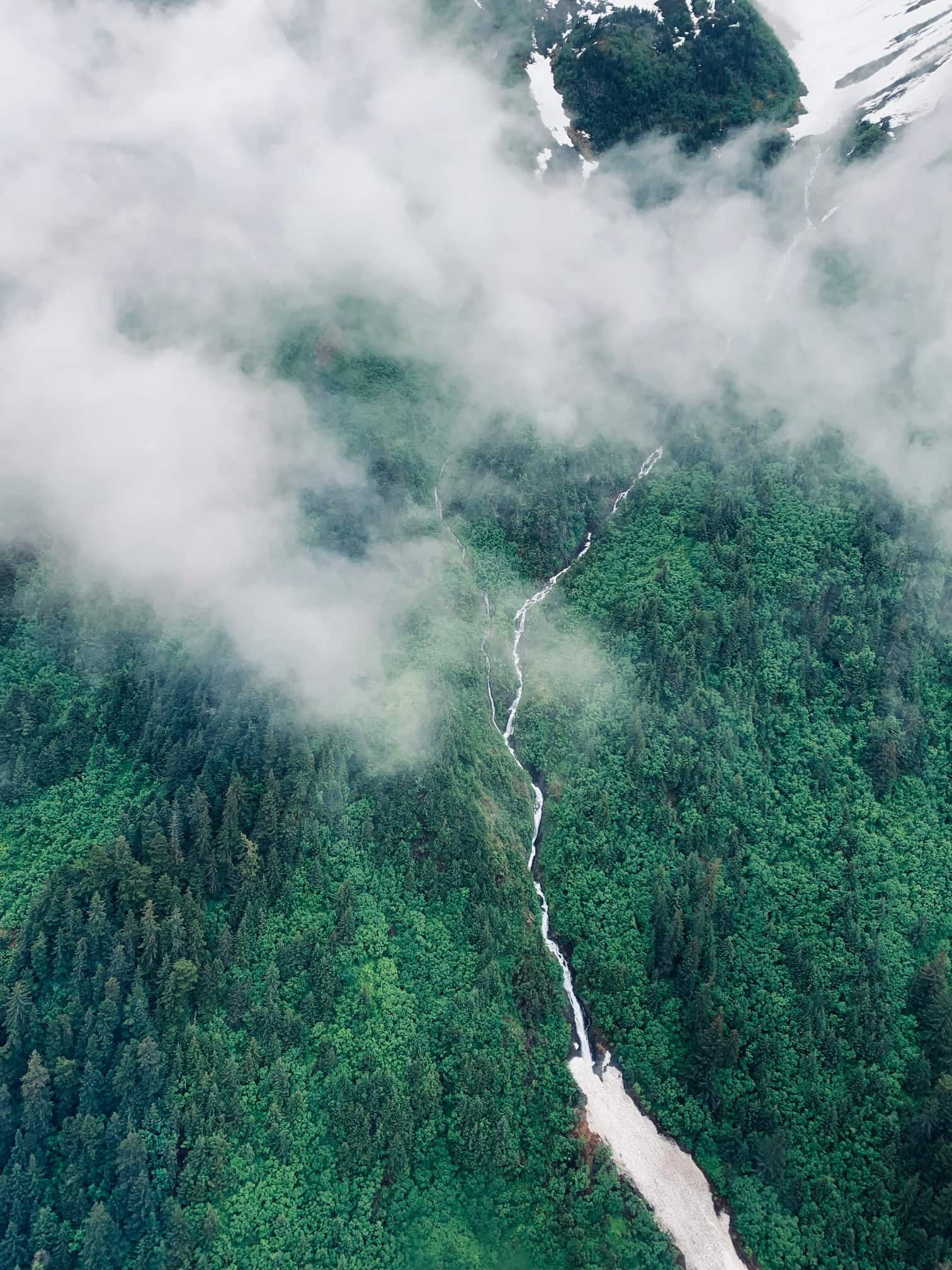 Day 1: Denali National Park
The drive from Fairbanks to Denali National Park is about 2 hours and 30 minutes, with bathroom breaks it took us about 3 hours total. 
Camping in the park is the best way to see what Denali National Park has to offer. Going into depth would take too much of this blog post, however I do have a full guide on everything you need to know Camping in Denali National Park.
By the time we were done checking out the visitor center and getting checked in for our bus it was about 12:00. 
Tip: Make sure to make bus reservations far in advance to get your ideal time!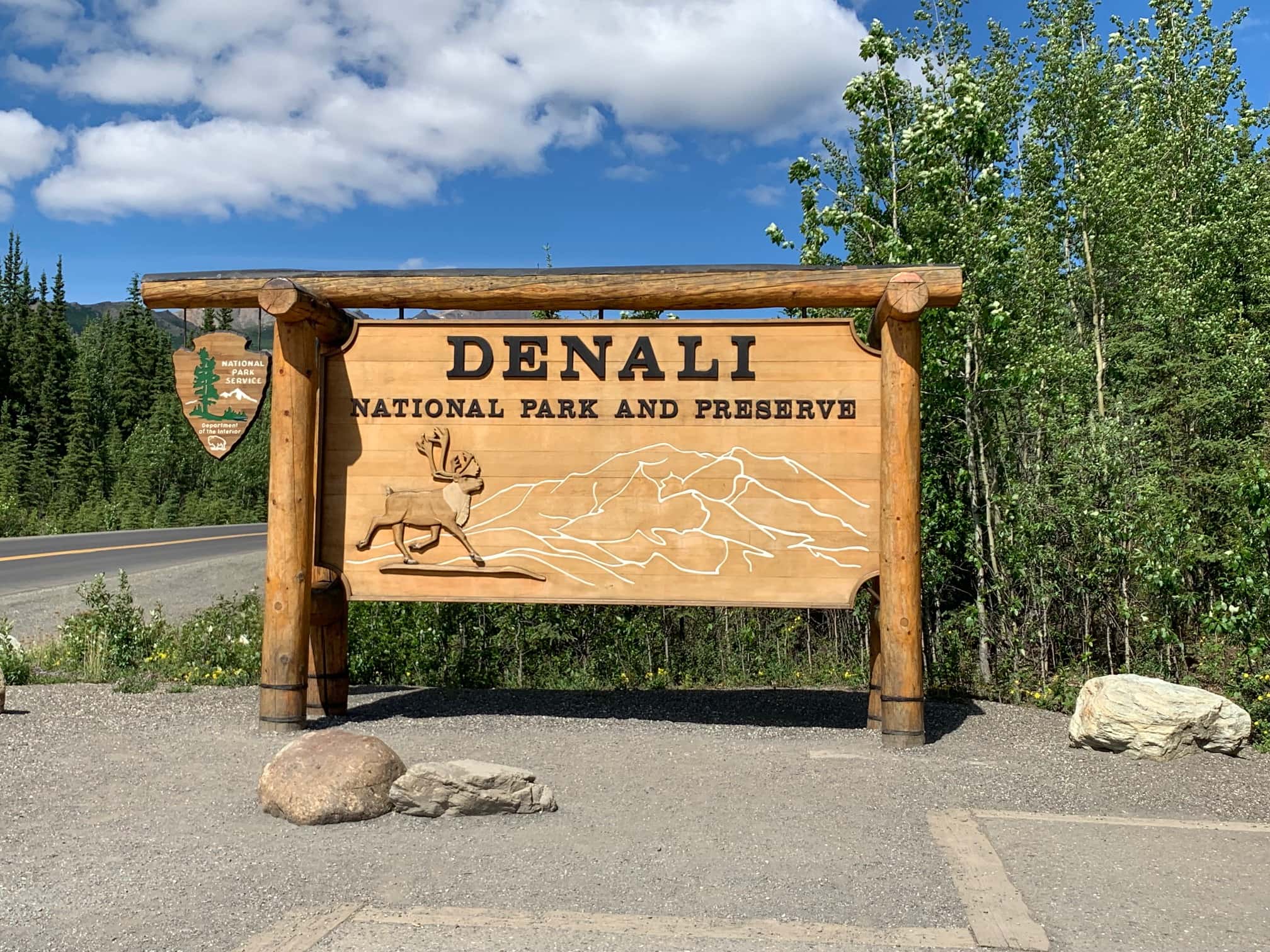 We boarded the bus and headed out to our campsite, Igloo Creek Campground. The bus ride was about 2 hours long. From the bus stop to the campsite it is just a short walk. The campground is by reservation, but sites are first come first serve. 
Once we were all set up it was time for dinner. We met a lot of friendly campers that were also staying at the campground and asked for some good hiking recommendations. One of the bright sides of visiting Alaska in the summer, especially in June is that it never really gets dark. We headed out for a short hike near our campsite at around 6PM.
Day 2: Denali National Park
We were all up pretty early on day 2 in Denali National Park, had a quick breakfast and then went hiking down by the stream .
We decided to catch the first bus and head up to Eielson Visitor Center. This is a long bus ride even from Igloo Creek Campground. It was about another 4 hours on the bus. This time there was a lot more of an adventure. Within our first 30 minutes we saw a group of bears running around. We stopped for a while and watched them play in the little snow that was still there. 
About half-way on the bus tour we decided to stop and go hiking. A unique feature of Denali National Park is that there are very few designated hiking trails. They promote hiking anywhere, so we just headed up a hill and decided what we could find. The views from the top were amazing, and we decided to sit and have lunch.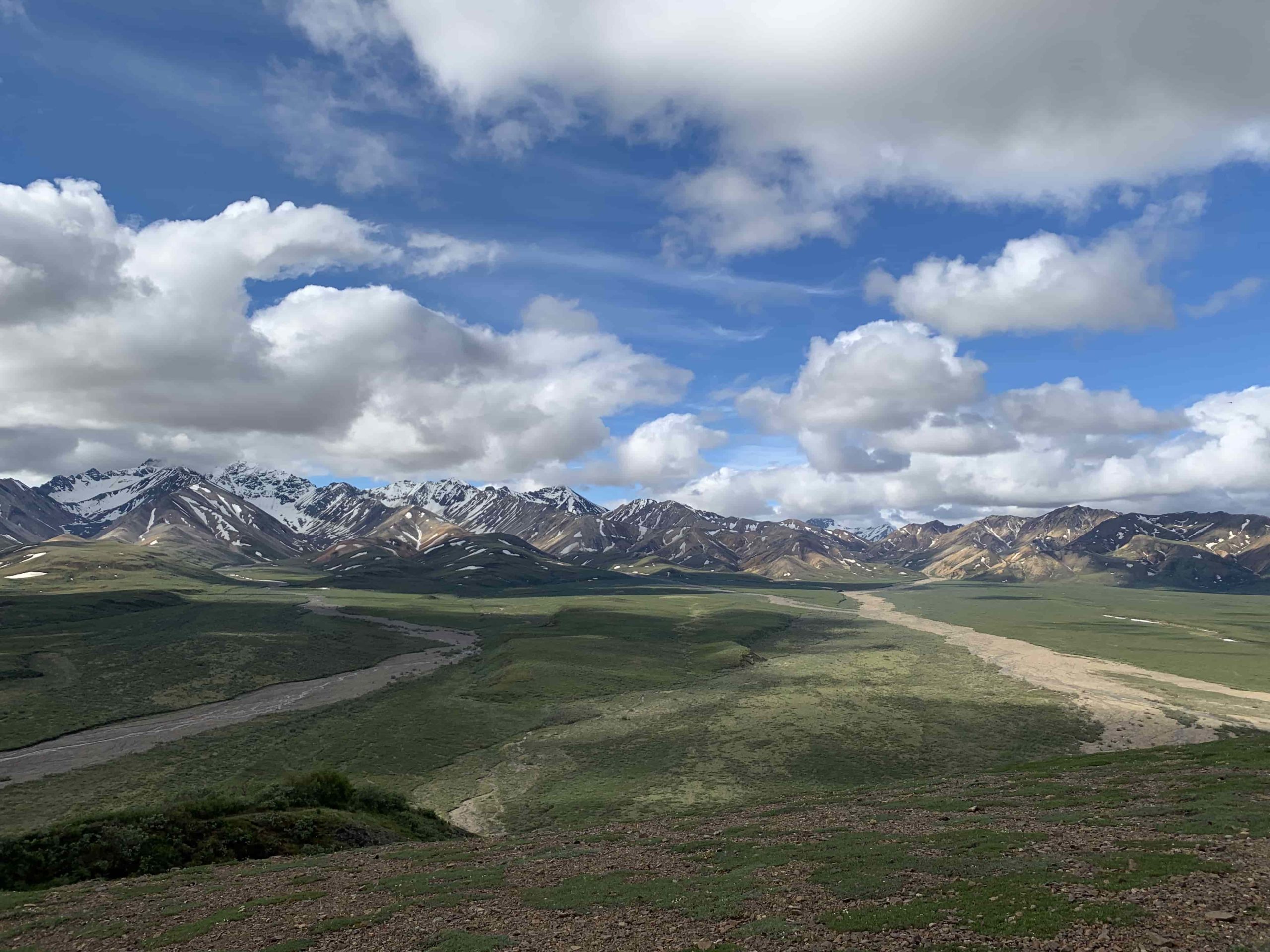 Once we were done we hiked to the nearest bus stop and hopped back onto the bus to continue to the Eielson Visitor Center. Arriving at the visitor center it was obvious why this would be a highlight of our Alaskan road trip. There was a crystal clear view of Denali. We were definitely lucky because cloud cover can make it sometimes impossible to see. We learned from a park ranger that the weather conditions can change fast and in a few hours it can go from clear to covered in clouds. 
We took the bus back to our campground, and saw a handful of bears and a moose on the way back. The farther you go into the park the more likely you will see wildlife. By the time we got back to the campground we were exhausted and decided to have dinner and then go to bed.
Day 4: Seward, AK
To start our morning off we decided to do a bucket list item that we had never done before. We decided to book a helicopter ride! We went with Seward Helicopters and decided to do the glacier landing. 
We arrived around 9:00, for our 9:15 flight and got checked in. We had to sit around for about 30 minutes for the weather to clear. Once we got the all clear we took off and flew up into the glaciers. Our pilots flew us around the glacier and then showed us where we were going to land. To me it seemed like such a small area, but they nailed the landing.
Once we landed we got out and were able to explore for about 15 minutes before having to go back down. Of Course we took this time to play around and take some amazing pictures to remember this trip.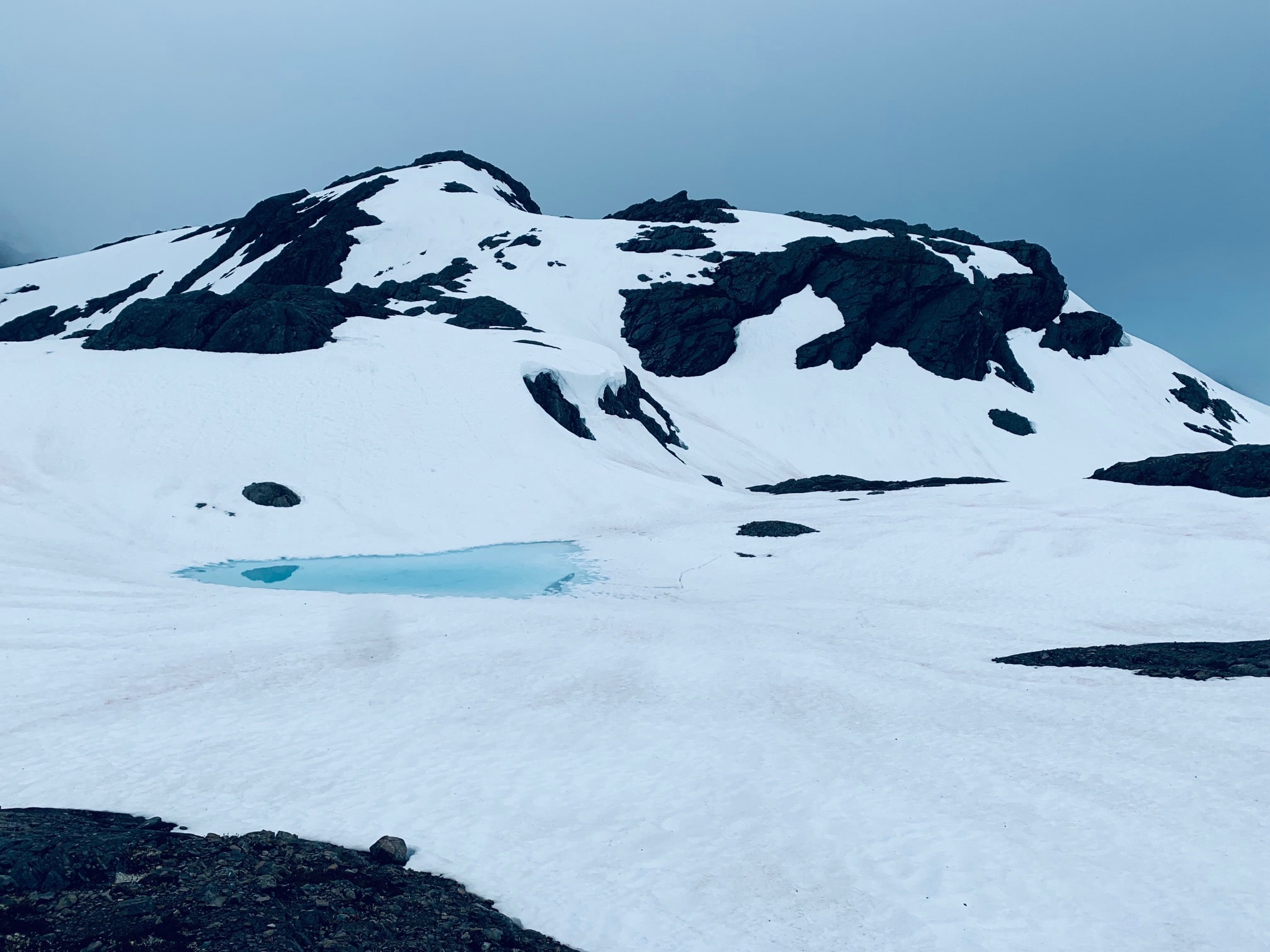 Sadly, the weather had taken a turn and it started to rain. Our second activity of the day got canceled. We had planned to take a cruise out of Seward to see if we were able to see the whales. Although we didn't get that opportunity, if you do I would suggest going. I plan on doing it next time I am back in Alaska. 
Towards the evening the rain let up and we headed to our next accommodation, Fjords National Park. We decided to camp at Exit Glacier, a walk-in tent campground at the park. We were nervous because it is only 12 sites and first come first serve. We ended up being the only ones there.
 Tip: Exit Glacier Campground is free!!!!
I think all of us in the group would say the same thing, this has been one of the best campgrounds we have been to. Minus some bad weather, the campground had a great central fire pit, sites were far enough away from each other, and right next to some great hiking.
Day 5: Fjords National Park
Again another early morning (seems to be a common theme in Alaska), we packed up our tents and headed to the visitor center. We already knew we wanted to hike the Harding Icefield Trail. We started our trek up to the top.
The weather was better than the day before, but there were still some rain showers which made the trail slippery. Thankfully I had my trekking poles to help. On our ascent we were stopped for a bit by a bear in the distance on the trail. Once it decided to move out of the way and to a safe distance we continued hiking.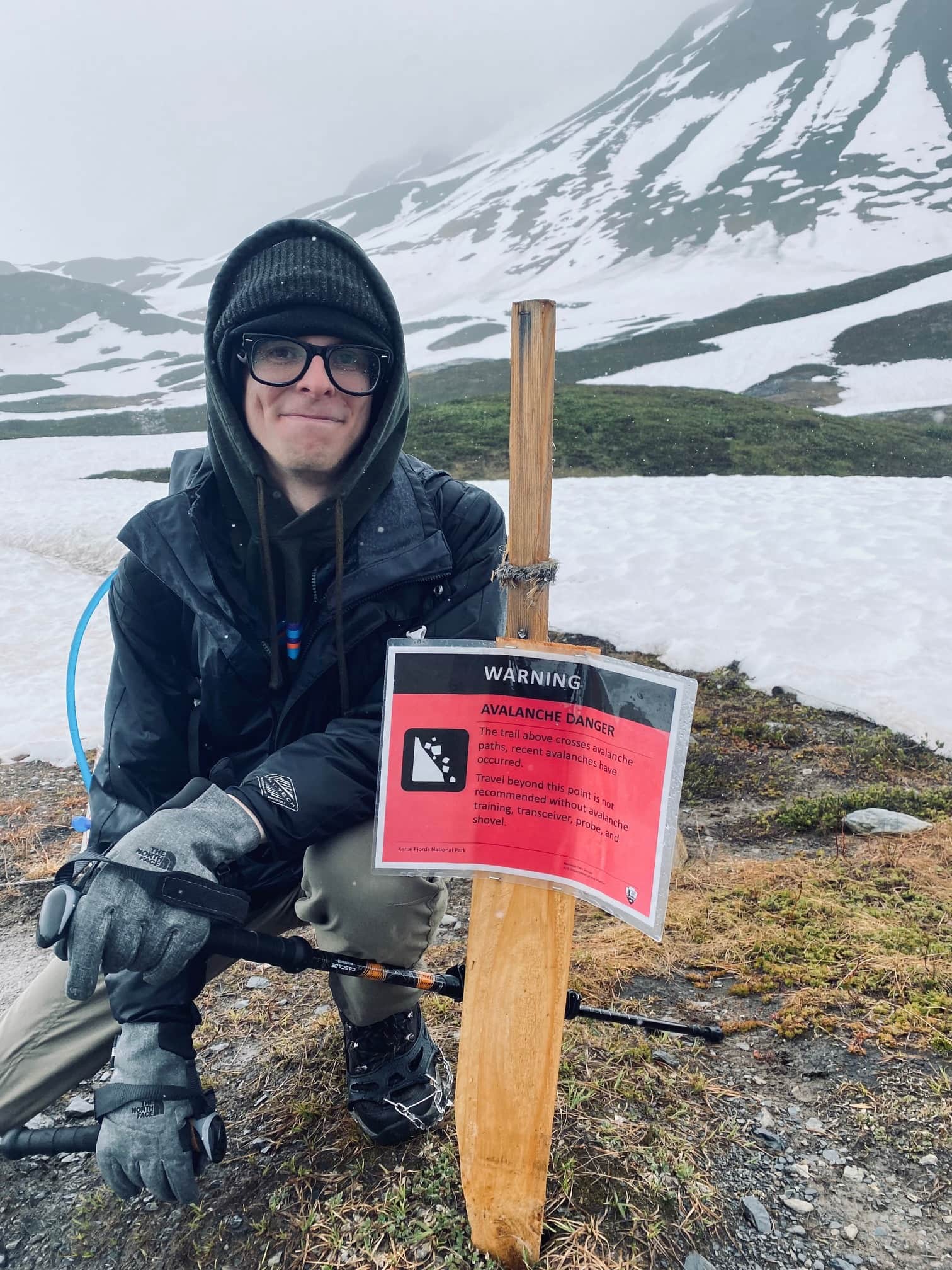 We all reached Marmot Meadows and took a little snack break and enjoyed the view. We could see people climbing up the glacier, which was a neat site (permit required). We were headed up the trail and ran into snow. We knew that this most likely would be the case and reached a sign that stated "Avalanche Area". Being we didn't have the proper gear this is where we decided to turn around and head back down. 
It was then time for a drive to the Courtyard Anchorage Airport where we would spend the next two nights.
Day 6: Anchorage
On our last full day in Alaska we decided to spend most of the day exploring Anchorage. We started the morning by visiting Chugach State Park and hiking Flattop Sunnyside trail. After the short hike, we headed back into Anchorage for breakfast and explored what the city had to offer.
We spent most of the day at the Anchorage Museum, the largest museum in the state of Alaska. It was a lot bigger than we all expected. There is so much interesting history within these walls and I enjoyed it more than I thought I would.
While I am not the biggest seafood fan, my two best friends are. So for dinner we headed down towards the water so that we could have fresh crab. I myself decided to try a reindeer burger, which wasn't half bad.
After dinner we walked around the downtown area a bit since it was still bright out, and then headed back to the hotel to sleep for our last night in Alaska.
Day 7: Departure
We had an early morning flight so we dropped off the car and made it through the airport. The Anchorage airport luckily isn't too big, so security lines were short and in no time we were at a gate. Nothing was really open at this hour, but once we landed in Seattle we had breakfast and headed on our way to our home destinations