With recent changes to the popular hiking destination of Havasupai Falls that no longer allows camping in cars at the trailhead there are limited accommodations if trying to stay the night before. I decided that I would take my chance and stay at the Grand Canyon Caverns and Inn and give a full review.
Booking a Room at the Grand Canyon Inn and Suites
While the Grand Canyon Caverns and Inn does have its own website, it could use some work. A few times while trying to book it gave me errors and couldn't complete the process. So, I decided to book through Trivago, with no issues.
There are a few different options when staying at the Grand Canyon Caverns and Inn. My friend and I decided that we would just get a standard room, which had 2 queen beds and cost us $100 for the night. It's not bad, considering that other accommodations in the area are priced at around $150, and there are very limited options available.
If you're looking for a cheap option, the Grand Canyon Caverns and Inn also has campsites that you can book for $20 a night, and if you are looking to splurge make sure to check out the Cavern Suite. This will set you back $1,000 a night, but come on… how many times are you going to have a hotel suite that is 200 feet underground.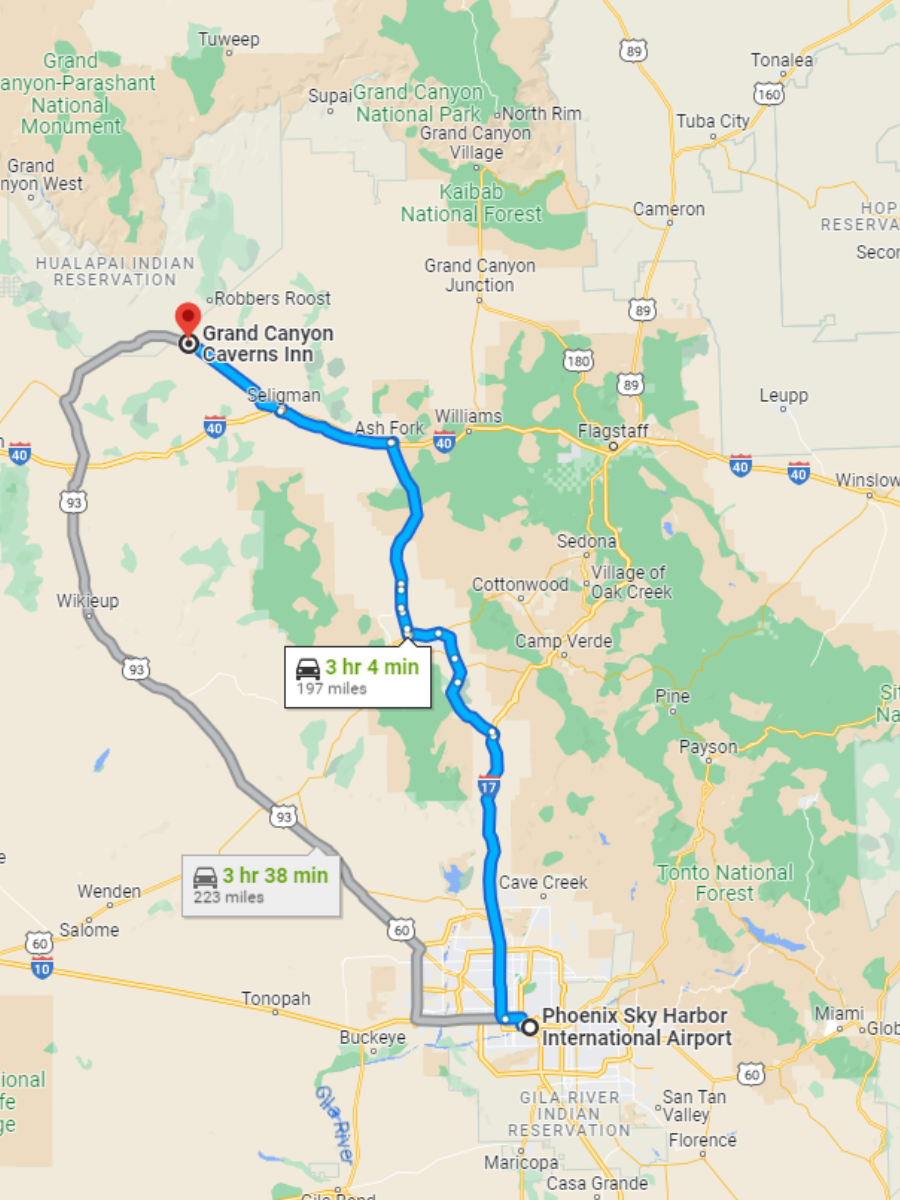 Getting to the Grand Canyon Caverns and Inn
The Grand Canyon Caverns and Inn is located in Peach Springs, Arizona. This is about a 3 hour drive from Phoenix Sky Harbor Airport and about 2 and ½ hours if you are driving from Las Vegas. If you have a lot of money lying around there is the Grand Canyon Caverns Airport, just a few hundred feet away from the inn. I can't offer many additional details on how to book it other than seeing it.
For some reason while using google maps at the time it just had the address listed as Peach Springs, so we had to call to get some better directions. The actual address of the Grand Canyon Caverns Inn, Historic Route 66, Mile Marker 115, Peach Springs, AZ 86434.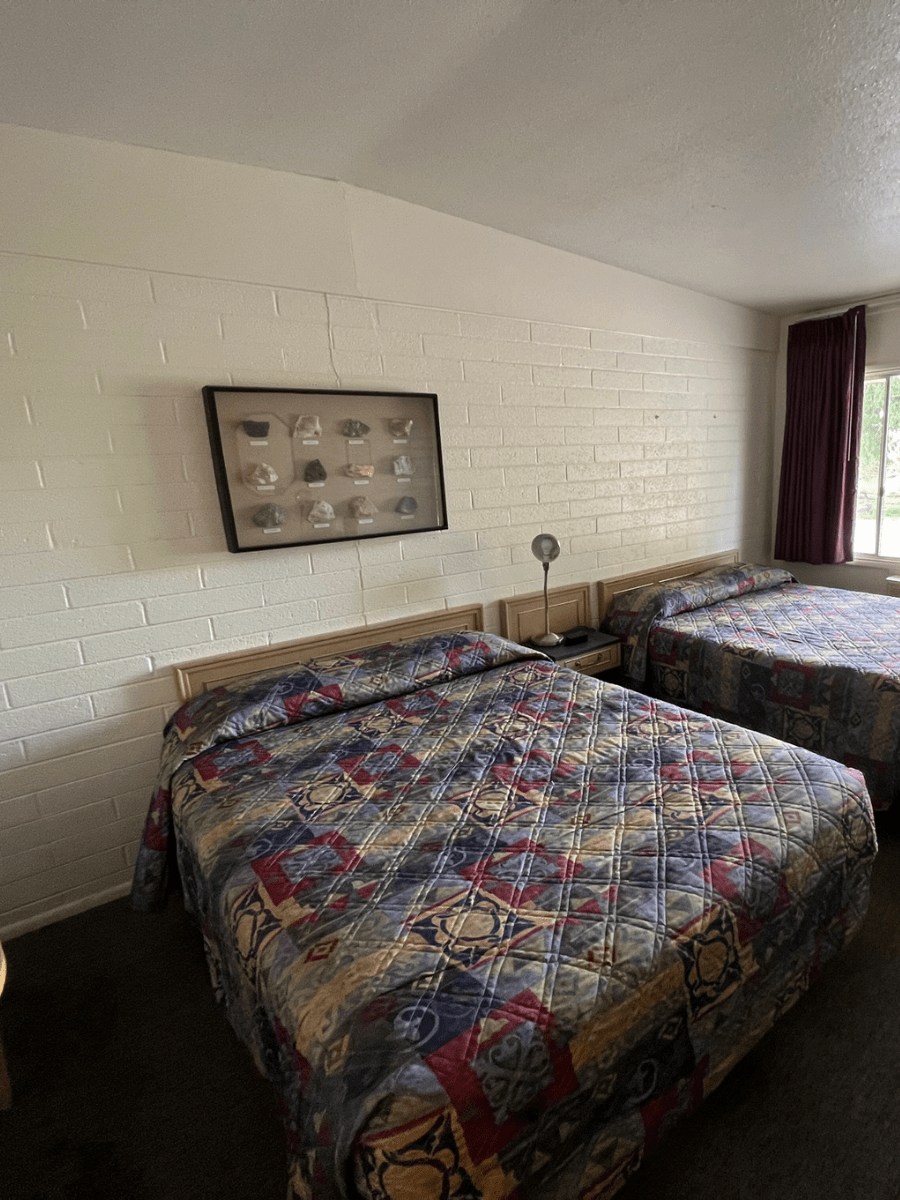 The Hotel Rooms at Grand Canyon Caverns and Inn
As mentioned I had just booked a double room, so nothing fancy. Check-in was pretty easy, although they do have limited staff. For after hours check-in there is a little doorbell outside the main office to press and a staff member will come and check you in.
The rooms are equipped with an air conditioning unit, which to my surprise worked very well. The rooms are very dated and it is starting to show. Our room did have a few dead bugs lying in it once we walked in, however we are here for a pre-rest for a hike so not a big deal.
The Wi-Fi is supposed to cover all the rooms, and it appeared to be connecting, but despite having the password, we had no luck getting onto the internet. Not a big deal for us as we had arrived in the evening and needed to be up early.
The Campground at Grand Canyon Caverns and Inn
The campground is located right out front of all of the rooms on an open piece of land. While we did not camp, there were a few campers that evening. It appears that they selected the campground simply because it was a large, flat area. I can envision that with people arriving and departing, car lights might have been visible throughout most of the night.
There are no trees for hammocks, just an FYI for all of you backpackers not taking a tent into Havasupai Falls. Porta potties are accessible, although I imagine that the bathrooms in the main lodge are somewhat better during the day.
Food, Beverage, and Services at Grand Canyon Caverns and Inn
In the main lodge there was a small convenience store with small snacks, everyday essentials, etc. The store was open until 7:00 PM daily and prices were pretty reasonable (similar to a gas station's food prices). Additionally there is a gas station located on the property, you just have to ask inside about the pumps and they will help you out. I would fill up as there are not many gas stations in this area. There is one about 15 minutes away located in Peach Springs.
About a mile down the property there is a restaurant that serves lunch and dinner, but no breakfast. There is a walking path from the rooms, however we just decided to drive as it was easier. The menu is small, but American type food including burgers and wings. For a drink, burger and fries I paid around $18.00.
The Grand Canyon Caverns and Inn is also where you pick up permits if you plan on hiking Havasupai Falls. This is the first year that has been implemented. I imagine there will be some changes as they figure more of the logistics open. For the month of August permit pick-up was from 6:00 am to 7:00 pm.  
While currently not operational during my visit they do offer caver tours. Currently, the elevator is out of order, but they have expressed their intention to resume tours at some point.
Depature
We were planning on leaving early, around 4:00 am. We packed as quietly as possible in hopes of not disrupting our neighbors since the walls are a bit thin. We knew that the main reception area wouldn't be open. However, outside the main building there is a little key slot to drop keys off. This was simple and easy. I had paid the night before so I had no worries about the charges to my credit card.