Welcome to a backpackers guide to see breathtaking beauty and natural wonder, where emerald waters cascade over terracotta cliffs, and the air is filled with the soothing melody of rushing water.
Nestled deep within the heart of the Grand Canyon, Havasu Falls is a hidden gem that promises an unforgettable adventure for those willing to venture off the beaten path.
 If you're a nature enthusiast seeking the ultimate hiking experience, you've stumbled upon the right place. Learn how to plan and take the perfect journey through the awe-inspiring landscapes and immerse you in the rich history and culture of the Havasupai Tribe.
So, lace up your hiking boots and prepare to embark on an extraordinary adventure.
Trevorocity is reader-supported. When you buy through links on this site, we may earn an affiliate commission.
How to Get Permits for Havasupai Falls
Hiking into Havasupai Falls isn't just showing up at the trailhead and hiking (although I do wish it was this easy). Permits go on sale every year on February 1st and will literally sell out in minutes. 
The best way to be prepared for this is to create an account on the tribes website, enter all of your payment information before the permits go on sale and lastly pick any dates that are available. I was aiming for Labor Day when I had originally applied for permits, but mid-August was the only time frame available and I was not going to pass up the opportunity. 
There is also a cancellation list that is updated at 8am everyday that you can snag a permit for. It can be a good way to get permits if you are not successful on opening day. 
Permits are picked up at the Grand Canyon Caverns and Inn located in Peach Springs, Arizona. They can be picked up the day before your hike starts (which I highly recommend doing). 
The Best Time to Hike to Havasupai Falls
While technically I would argue the best time to hike to Havasupai Falls would be any time you can get permits, the most comfortable weather will be in May through June.
As I stated above I went in August and loved every minute. It meant early mornings and a lot of sunscreen, but the water stays the same temperature year round so it was refreshing to take a dip to cool off, while in the fall months it would take a bit more convincing to get in the water. 
During the end of the summer (usually mid-June through September) it is also important to be aware of monsoons. These powerful storms can cause flashing flooding in the area and you might need to seek higher ground. It will also change the water from that turquoise blue to brown. 
The day I hiked in it had rained the night before, so the water was brown. However, it only lasted for about a day before returning back to its natural colors.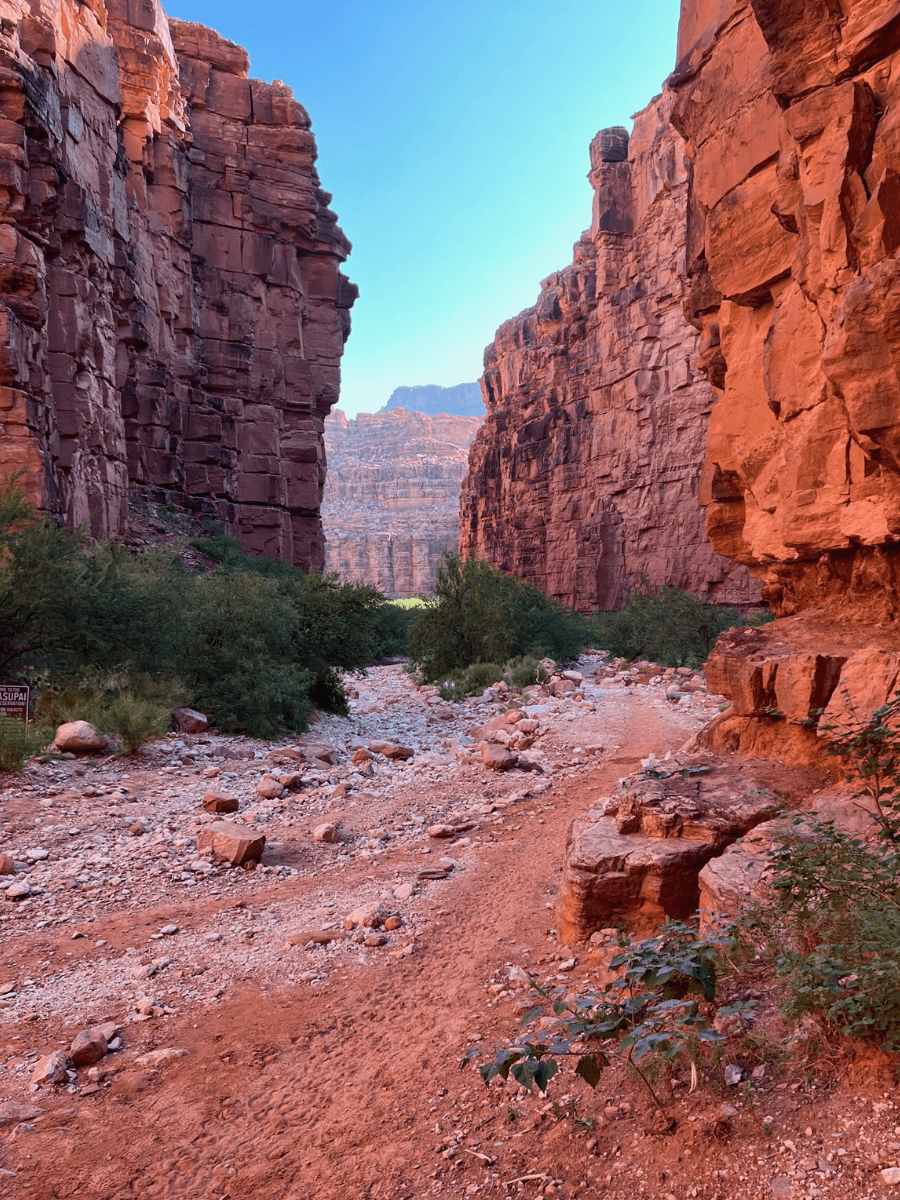 Hiking in and out of Havasupai/ Havasu Falls
Hiking Into Havasupai
Hiking to Havasupai Falls is about a 10 mile trip one way, so it is important to make some preparations. Especially in the summer months it is important to start early to avoid any sort of heat exhaustion or dehydration. I recommend staying at either the Grand Canyon Caverns and Inn or the Hualapai Lodge. 
I started my hike into the canyon at 5:00am, and saw a lot of others showing up around the same time. The first part of the hike descends downhill into the canyon with an elevation loss of about 2,500 feet. There are a lot of switchbacks before you eventually reach the riverbed of the canyon.
Once the riverbed of the canyon is reached it is for the most part a flat hike to the village. Although there is a trail, it isn't really marked. However, it is quite difficult to get lost as long as you follow the riverbed. You will most likely run into some horse wranglers as well, remember that horses have the right of way and stay off the trail when they are coming.
I reached the village around 9:00 am and decided that I didn't want to add any more weight to my pack and decided to continue on and not stop. I made it to camp right around 10:00 am and while the sun was up the canyon blocked most of the sun from directly hitting me.
Village of Supai
The Village of Supai is about 8 miles into your hike. As you approach the village you will start to see signs that ask you to not take any pictures of the people, animals, or buildings. It is important to remember to respect the tribe as this is their land that we are visiting. They also had signs up about masking up still due to COVID-19. I would say about 50% of the tribal members were wearing masks, and not as many hikers. 
The village is small but does have a cafe, grocery store, post office, and little gift shop for tourists to visit. The grocery store has limited items and might not always be in stock. They do accept credit cards, which is a huge plus. 
Wi-Fi does exist while in the village, however it isn't the best quality and it is not always functioning so I would not rely on this for a trip into the canyon.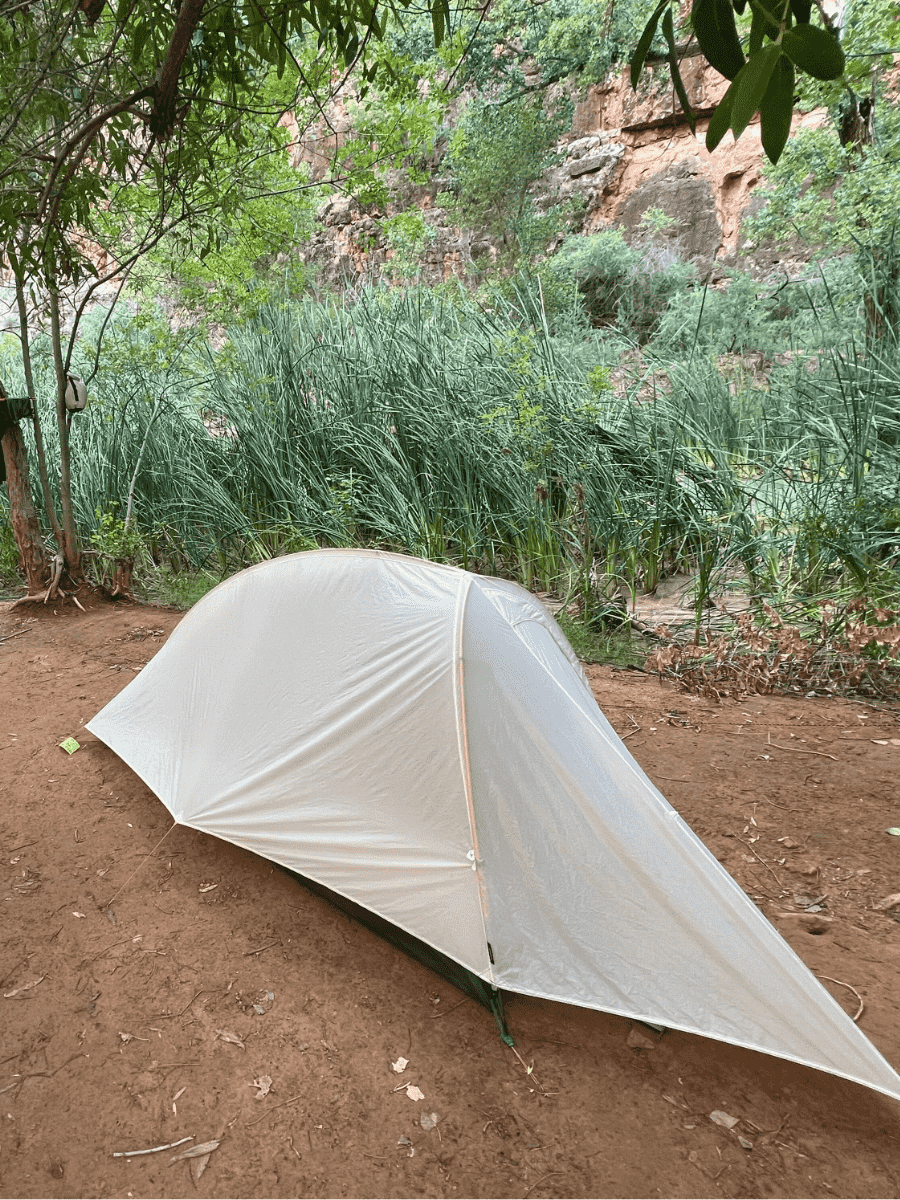 Campground in Havasupai
From the village it is about a 2 mile long hike to make it to the campground. Along the way you'll pass three waterfalls. Fifty Foot Falls, Little Navajo Falls and Old Navajo Falls. While you will be able to see them pretty easily, getting down to them isn't the easiest and honestly the falls you'll see later are much more enjoyable.
Right before the entrance to the campground there will be a little frybread stand (cash only), but it is delicious! You will then come across Havasu Falls, a 100 foot waterfall that is a great area to swim in once you set up camp. 
The campground is about a mile long and while I would say there aren't "designated" camp areas, just look for an area with a picnic table. These are areas that you can set up camp, and while it may be hard to find one at first just keep looking and eventually one will be available. 
There is a small spring in the middle of the campsites with potable water spout. It is said that this water does not need to be filtered, however for good measure I filtered mine just to be sure. 
There are bathrooms located on both sides of the campground, and while not the cleanest they are probably some of the better bathrooms I have seen in my hiking days.
Not to get on a soapbox, but please remember to pack out what you packed in. The area was full of leftover trash including tents, sleeping bags, etc. just lying around. There is very limited trash service and it is expected that you will pack out everything that you had brought in. If you are looking for something for backpacking trash, Sea to Summit has a Trash Dry Sack.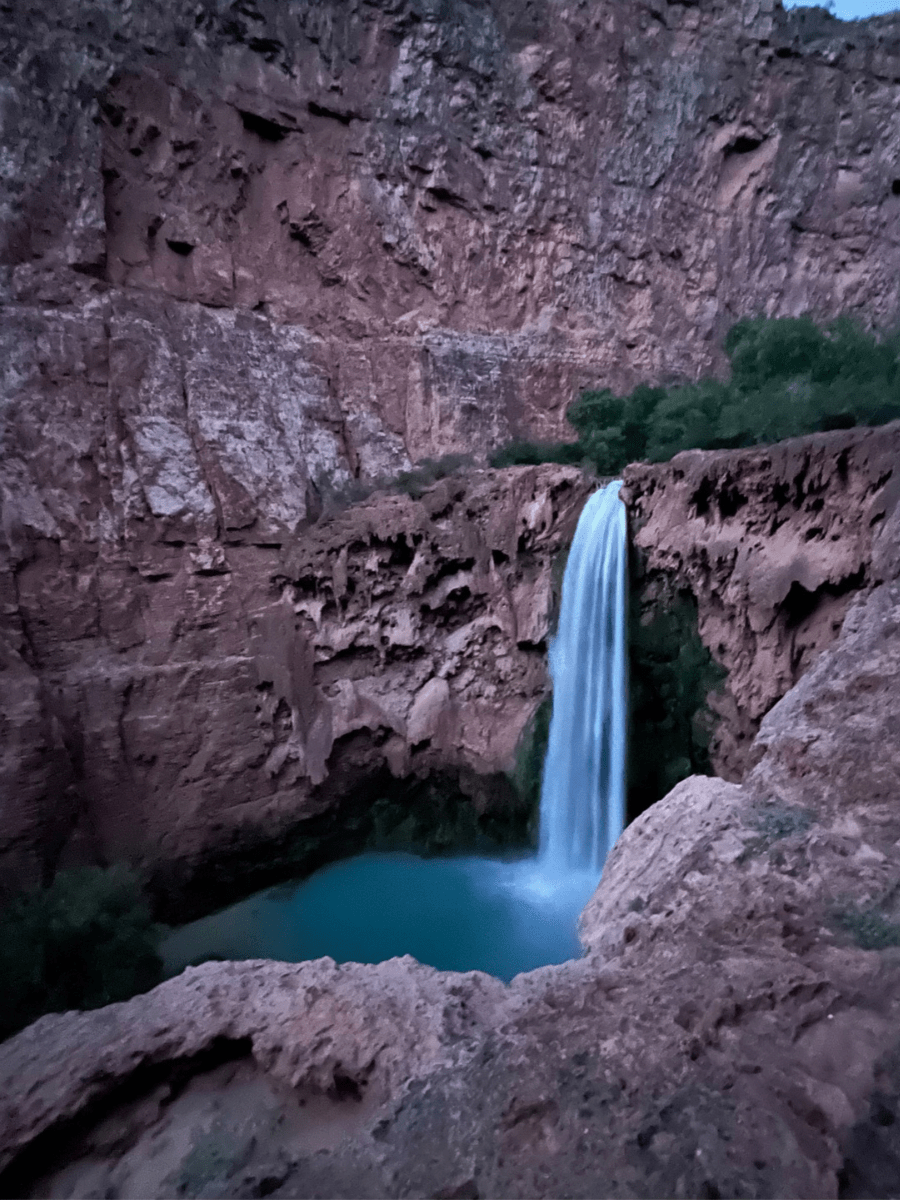 Hiking to Mooney Falls
Mooney Falls is probably the focal point of most hikers and honestly it is the pictures that you see most when looking up Havasupai Falls (and for good reason). This waterfall stands at over 200 feet tall!
From the campground the trail down to the falls is not far, depending upon where you are camping no more than 0.5 miles. Getting down the falls can be a bit tricky… and not for the faint of heart. You will first go through a little cave section and then the real climb begins. You will then get to a chain section where you will have to scale your way down the wall under which you reach a ladder. Take your time especially as you get to the base of the falls as it gets slippery. 
Once you get to the base of the falls though it is magnificent and a great area to swim in. With the strong currents of the fall you won't make it close to the falls, but nonetheless the water is refreshing. While it is a popular destination going early in the morning or later afternoon it tends to be less crowded.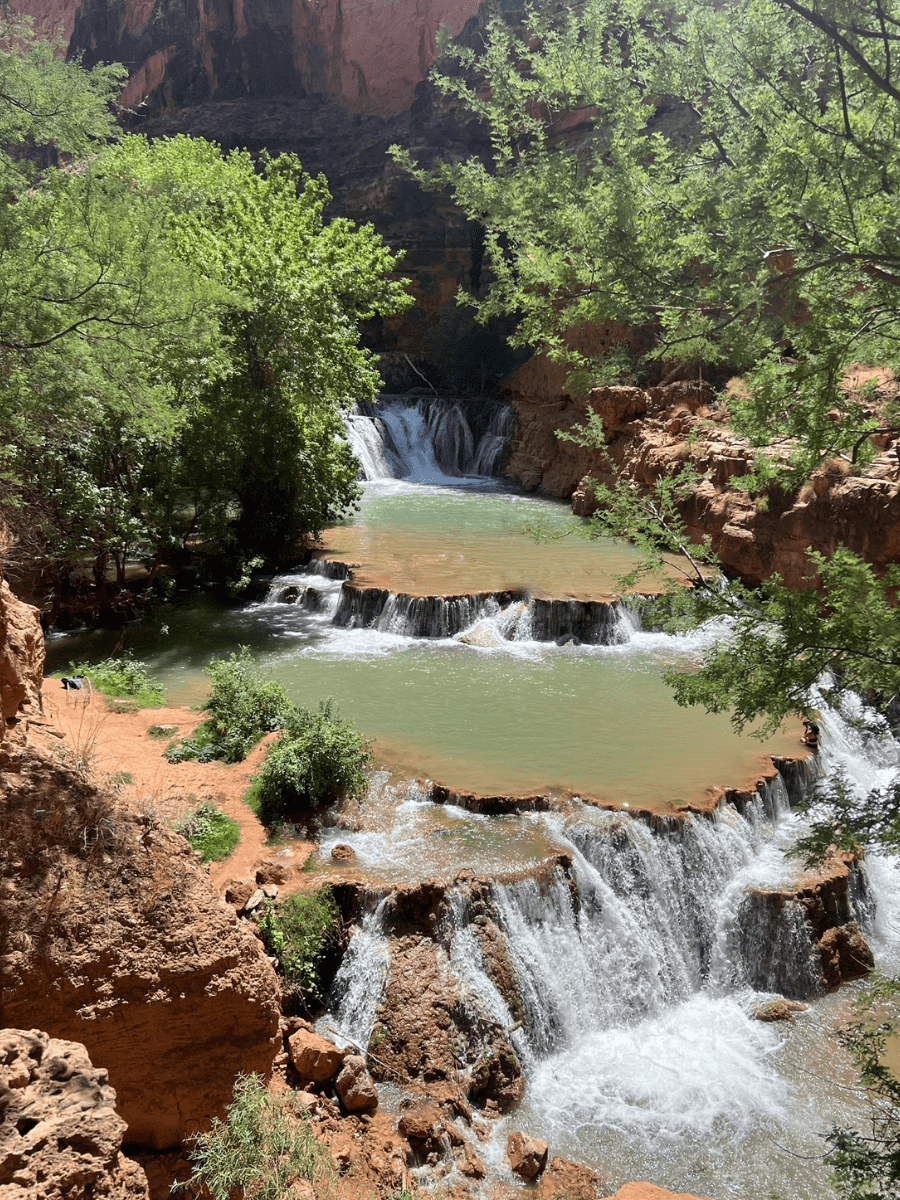 Hiking to Beaver Falls
Beaver Falls is about a 4 mile hike from Mooney Falls. Beaver Falls is a series of small falls that are right next to each other. It is a great place to be able to just relax in the water. 
Getting to Beaver Falls is not the easiest, and not because it is difficult. Rather the trail is not the easiest to find. A bit of thanks to AllTrails on this one to make sure we are going the correct direction. While it is all following the stream there are a few water crossings that must be crossed in order to get there.
The trail leads through some thick mangrove type bushes. It is important to note that there is very limited shade on some portions of the trail, so be prepared for the sun. While not as sketchy as Mooney Falls there are a few areas where you have to climb up some ladders and rocks to make it to the falls. If you continue from Beaver Falls you will eventually hit the confluence.
Hiking Out of Havasupai
If you remember the beginning of the hike it was a 2,500 feet elevation loss into the canyon, this meant that it would be a 2,500 foot elevation increase out of the canyon. 
One of the best options out of the canyon is to take the helicopter. The helicopter costs $100 and takes off from Supai village. The helicopter only runs on certain days of the week and most people get in line around 6:00 am.
However, the signup list does not usually come around until 8:00 am. The helicopter is there for the village so anyone living there has priority on the helicopter first. While it is much less work, hikers backpacking out usually make it up to the top way before anyone taking the helicopter. 
I was hiking out on a Tuesday, a day the helicopter does not operate (sadly) so I was on my own to hike up. It was a very early morning, as again I wanted to be up before the sun was beating down on me. I was awake at 3:00 am and had everything packed up by 3:30 am as I started my departure from the campground. 
Starting the hike out it was very limited elevation gain and although it was still hot it was not too challenging to get out. While I wanted to make good time, it is important to note that the stars are beautiful at this hour as there is very little light pollution. 
I was on a good pace to exit the canyon and then I hit the upward portion of the canyon and this was brutal, I felt that it was taking forever for me to go up. The elevation gain of 2,500 feet took me over an hour and a half. I made it to the top at about 9:30, just about 6 hours of hiking to the top. While it would've been great to helicopter out, it was rewarding knowing what I had just accomplished. 
What to Pack for Backpacking to Havasupai Falls
Final Thoughts on Hiking Havasupai Falls
As I conclude this chronicle of my solo journey to the enchanting Havasu Falls, I can't help but be overwhelmed by the exhilaration of my adventure. Havasupai is a realm where rugged trails lead to the sublime beauty of cascading waters, and solitude becomes a cherished companion.
Solo or in a group this is a bucket list item for anyone that enjoys hiking and I wish you the best in securing permits. I know it can be frustrating, but never stop until you make it here!