Every year millions of visitors explore the natural beauty that Utah has to offer. The vast landscape has many different types of geographic structures depending upon the region you are in. Utah is renowned for the "Mighty 5," which are the 5 national parks that the state offers. All the parks are amazing and should be on your list to see, however they are not all located next to each other.
If you're limited on time, consider this great southern Utah road trip itinerary, which lets you visit 2 of the 5 national parks that comprise the Mighty 5, along with a state park that many people often choose to skip.
What You Can Find in This Article
hide
The Perfect Time to Head on a Southern Utah Road Trip
I would argue that this itinerary could work year-round, however the winter months can make some of the trails in the following destinations inaccessible due to snow and cold temperatures.
The best time to visit is between late spring and early fall, this is also the time that most tourist flock to the southern region of Utah. Holiday weekends can be some of the worst time for traffic and trails can be heavily crowded.
If you can be flexible with time, I would suggest going on the shoulder seasons. The shoulder seasons are early May and October and early November. These months offer perfect hiking temperatures during the day with it cooling off at night (perfect for campfires). You are also a lot less likely to deal with crowds and it will feel less chaotic.
Southern Utah Road Trip Itinerary
Day 1 - Southern Utah Road Trip Itinerary
Zion National Park
Zion National Park is a great destination to start your southern Utah road trip at. This park is great for everyone from families just looking to hang out to adventure seekers that want to conquer some of the most popular hikes in the world.
The park is full of trails that will allow you to see so many different types of landscape.
To start the day take the shuttle to the Zion Lodge and get off. From here you will be able to do your first hike of the day, the Emerald Pools. You have a few options, there is the lower, middle, and upper Emerald Pools. Each hike has varying difficulty and length. I would suggest doing either the lower or middle Emerald Pool. Depending upon the time of year you are visiting the pools may have little to no water, this is okay! The hike is still worth it to see the amazing structure. This hike should only take an hour or so.
Once you have finished and are back at the lodge get back on the shuttle and head upwards, you are going to want to get off at stop #6, the Grotto. This is where you will start the ascent to Angels Landing, one of the most well known hikes in Zion National Park and a must do on a Southern Utah road trip. Make sure you are prepared for this hike with plenty of water and snacks. It is 5 mile hike round-trip with steep inclines and a chain section at the top. This trail is heavily trafficked, so do not be shocked to see many others. It takes around 4 to 5 hours to complete to do this hike.
Once you're back down its time to head back to your accommodations, but first stop at the Zion National Park Visitor Center. It has a lot of interesting history about the back.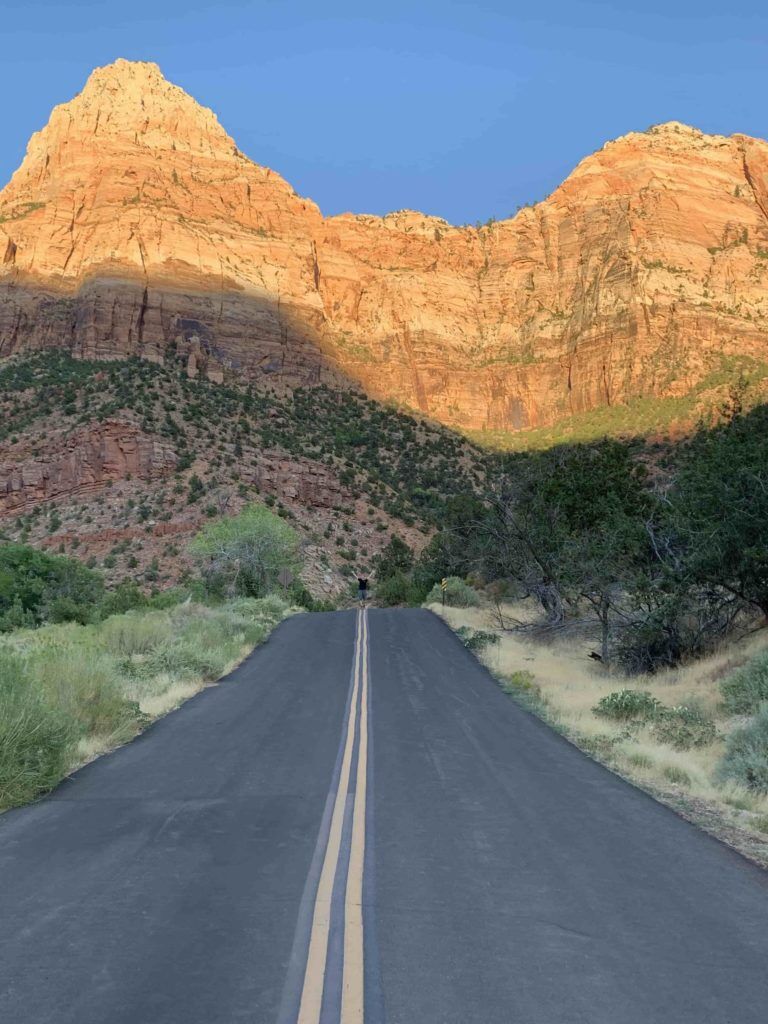 Day 2 - Southern Utah Road Trip Itinerary
Zion National Park
For the second day at Zion National Park, you will want to get up early and take the shuttle to the last stop where you will be at the start of "The Narrows", one of the most iconic hikes that can be found in the park. I have also published a in-depth guide to hiking The Narrows, but here are a few quick tips;
The bus ride will take longer than you think, about 45 minutes to the top.
Rental gear is overpriced and not noncapillary needed.
Pack plenty of snacks because you will use a lot of energy hiking up stream.
This hike will most likely take you all day! So be prepared to spend your time wading through water. At the beginning of the hike, you can expect it to be very crowded, but as you proceed farther up, you are less likely to encounter people.
When coming back down, you'll likely be exhausted. However, if you still have the energy, another hike is a must. Canyon Overlook Trail is a one mile hike that is outside of the valley. It offers stunning views looking into Zion National Park.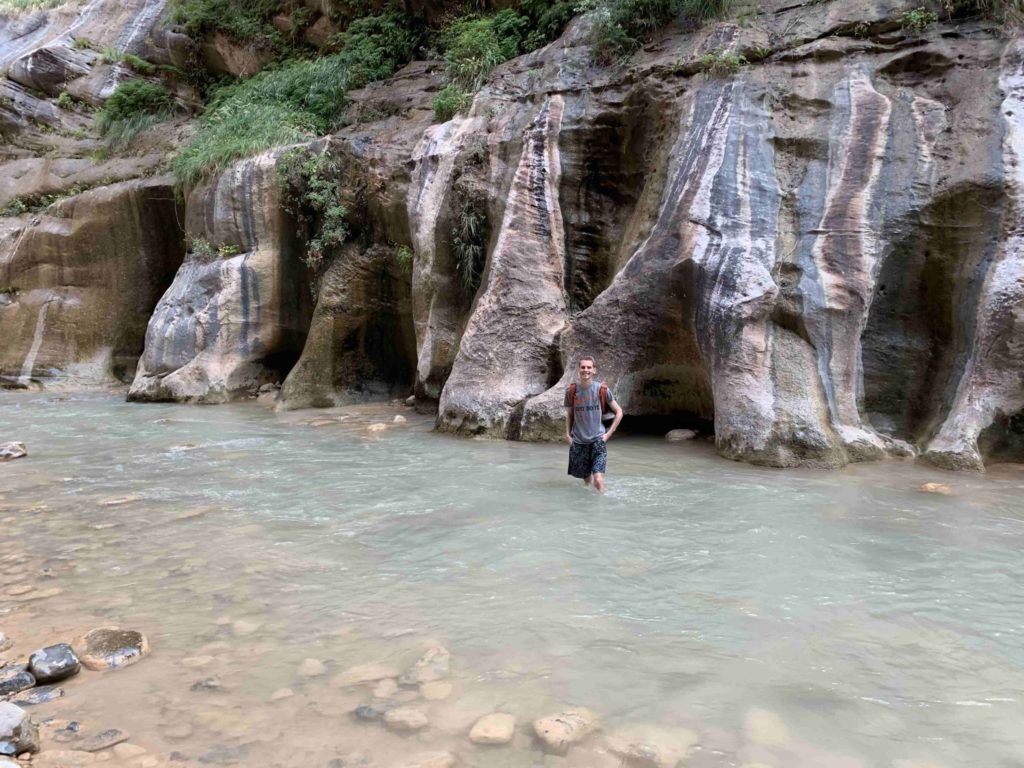 Accommodations Near Zion National Park
There are plenty of accommodation options when visiting Zion National Park during your Southern Utah road trip. Most people, myself include would like to stay within Zion National Park. There are a few campsite options, or even the Zion Lodge that you can stay in. Both of these are popular and will fill up fast during the busy season, so grab a reservation as soon as you can.
If you are wanting to stay outside the park or the reservations are full there is the town of Springdale. Located just minutes from the entrance there are plenty of hotels, inns, and even a few campgrounds. If you are a points member the Springhill Suites by Marriot is a great option.
Day 3 - Southern Utah Road Trip Itinerary
Coral Pink Sand Dune State Park
[Drive Time: 35 minutes /28 miles]
Located just 35 minutes from Zion National Park is Coral Pink Sand Dune State Park. This is a destination that you might not have heard of before, at least I had never heard of it. I discovered the park by mistake, when I was driving, I happened to notice a sign saying only 5 miles to the park entrance. I decided I would stop and check out the park and visit for a little bit, I ended up spending the rest of my day here.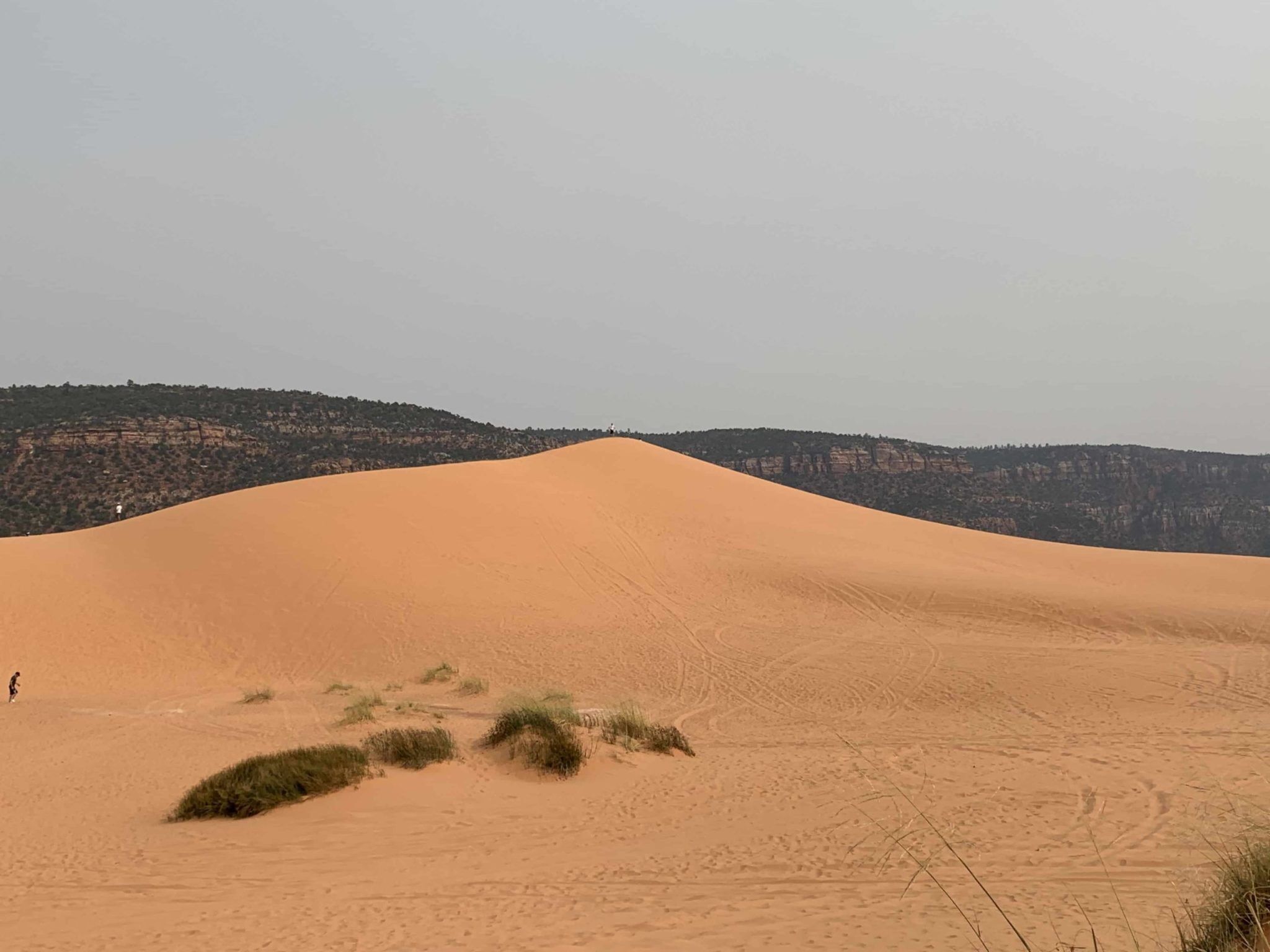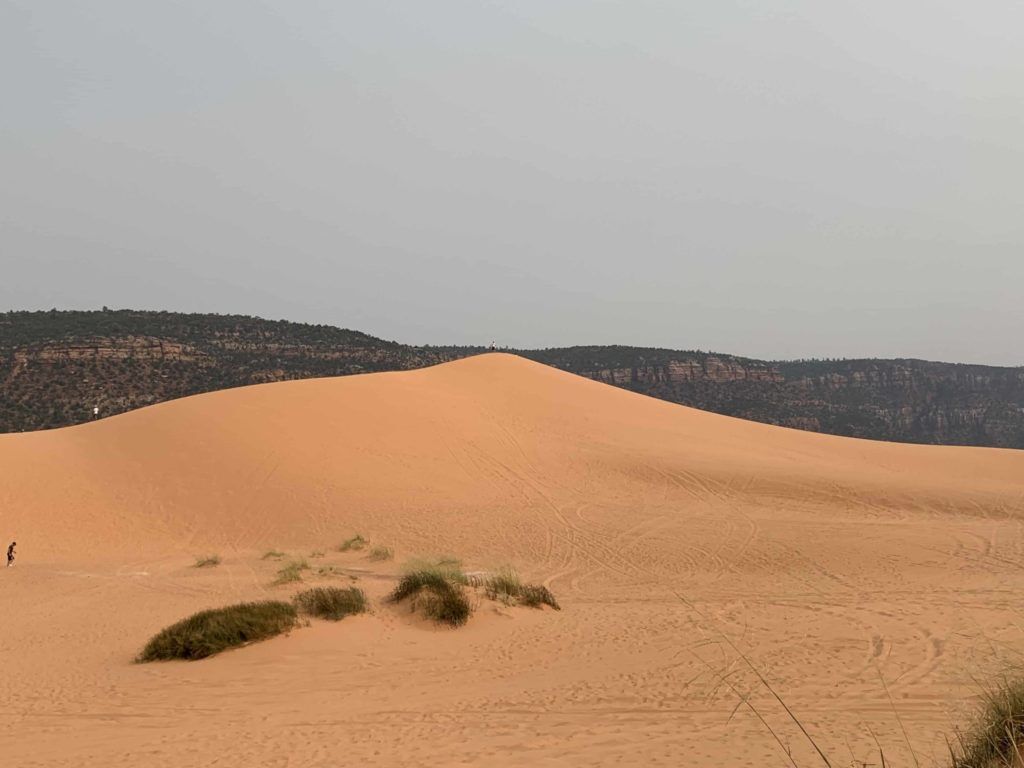 The park features sand dunes covered in stunning pink-toned sand that will leave you in awe, both figuratively and literally. The hike to the top of these sand dunes can be strenuous, especially in the heat. Prepare to allocate more time here than you initially think you'll need.
Make sure to take advantage of all the fun activities you can do here, one of my favorites is sandboarding. This is a rare activity to find in the United States and there are not many other places that you are able to do this in.
While there are not many designated hiking trails, there are plenty of dunes to roam around in, or even ATV if you are up for it.
Overshadowed by both Zion National Park and Bryce Canyon National Park this is a hidden gem that must be on your road trip itinerary.
Accommodations Near Coral Pink Sand Dunes State Park
There is a campground located at the Coral Pink Sand Dunes which is nice, however there is not too many other accommodations nearby. If you are planning on trying to stay at a hotel, continue up towards Bryce Canyon National Park as this will be the destination for Day 4.
Day 4 - Southern Utah Road Trip Itinerary
Bryce Canyon National Park
[1 hour 30 minutes/74 miles]
Bryce Canyon National Park is a relatively small National Park, however, do not let the size fool you because it is full of beautiful trails. This is a great destination to end your southern Utah road trip on because the hikes are mellow and not as strenuous.
These giant red-orange hoodoos will have you staring in awe, especially during sunrise or sunset.
If you are a morning riser plan on starting your day early by heading to sunrise point. The sunrise will give you the perfect picture opportunities, during the shoulder months it can be quite cold so dress warm.
Once the sun has risen and you are ready to start your day plan on hiking the Navajo Loop and Queen Garden Trail. This hike will take you down over 500 feet into the canyon below. This is one of the most common hikes because of the hoodoos. While hiking, you'll witness the progression of how a hoodoo forms. This hike starts and Sunrise Point and ends at Sunset Point, and takes about 3 hours to complete.
From here you will then drive out of the park and head to do Mossy Cave Trail. This trail is on the shorter side, only about 0.8 miles round trip. Over the past few years this hike has become more popular. The hike does not have much elevation change, but ends at a really cool cave with a small waterfall inside.
Accommodations Near Bryce Canyon National Park
Bryce Canyon National Park is similar to Zion National Park. A lot of people will either try to stay at the campsites, or the lodge. Especially if they are planning on doing an early morning hike.
Right outside of Bryce Canyon National Park is Ruby's. Ruby's has both a campsite and hotel. There is even a shuttle stop right outside of the campsite making it easy to get to the park.
Day 5 - (Optional) Southern Utah Road Trip Itinerary
The Wave
[1 hour 30 minutes/78 miles]
If you have the chance and the opportunity an extra day to dedicate to hiking The Wave is worth it. You can enter this spectacular hike through a lottery system, and there are two different methods to participate. The first is online, the lottery opens 4 months prior to the actual hike date, so plenty of time to plan if you do win. The lottery cost is $9 and can be found on recreation.gov
The second option to getting permits is by visiting in person. I would only suggest doing this if you are in the area, because the chances of winning are still pretty slim. They have recently allowed more hikers to visit every day, increasing from 16 to 64 people.
This is another hike for which you need to ensure you're well-prepared. There's very limited shade, and there isn't really a designated "trail," so it's crucial to bring a map or GPS with you.
Southern Utah Road Trip Itinerary
This adventurous road trip through the captivating landscapes of Bryce Canyon National Park, the distinctive beauty of Pink Coral Sands State Park, and the grandeur of Zion National Park proved to be an extraordinary experience.
The journey led us through the enigmatic hoodoos, the surreal pink sand dunes, and the towering red rock canyons. The enduring memories, conquered challenges, and the awe-inspiring scenery have left an indelible mark on the soul. This road trip was not merely a physical voyage but a profound adventure that ignited the spirit, leaving an indelible chapter in our lives.