So you're planning a trip to Yellowstone National Park? Well you've definitely found the right place to start! The first thing you'll want to do is make sure you choose the right place to stay. Yellowstone National Park had over 4.86 million visitors in 2021, making it one of the most popular parks in the United States so finding your resort, motel, or campground can sometimes be challenging.
Because Yellowstone National Park has limited seasons, setting your dates and planning where you'll stay at the park early is vital! Lodging tends to fill up as soon as dates open and you don't want to be stuck without somewhere to stay. The good news is, there are lots of lodging options in Yellowstone to fit everyone's budget, from campsites to good point hotel options to posh luxury lodges!
Trevorocity is reader-supported. When you buy through links on this site, we may earn an affiliate commission.
When is the Best Time to Visit Yellowstone National Park?
If you've heard that Yellowstone National Park is open year round, that's actually correct! However, most of the facilities there are not. Depending on which season you go to visit will determine which facilities, lodging, and campgrounds are open. You'll also need to check which Park Entrances will be open, as some of them are closed at certain times of the year. This can be a big factor on where you decide to fly into to start your exciting Yellowstone vacation.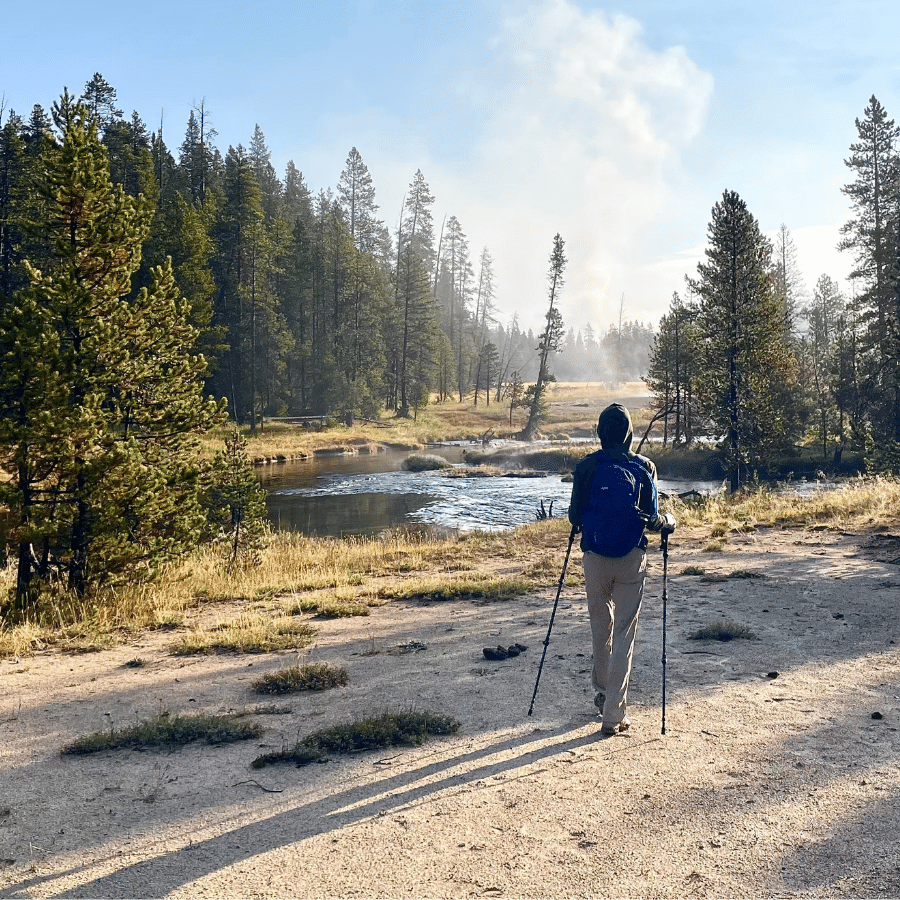 Most people think that the best season to visit is in the summer months from late May to late August. This is when you will find the most ideal temperatures. Keep in mind that Yellowstone is a massive park and certain parts are at much higher elevation than others, so the temperatures can vary greatly from one area to another.
If you are trying to avoid big crowds, try visiting on the shoulder seasons such as early May or September. Remember though, these months can have unpredictable weather with the possibility of snow, and not all park facilities and entrances will be open. With proper planning, you'll be all set for a trip to remember!
Where is the Best Place to Stay in Yellowstone National Park?
Yellowstone National Park boasts over 2 million acres of explorable land and is a full of natural wonders. Choosing the right area of the park all depends on what exactly you want to see. From Old Faithful and a multitude of thermal features to boating or swimming in Yellowstone Lake, checking out some of the magnificent waterfalls, backcountry camping in the pristine wilderness, or a picnic where you might see some of the amazing wildlife of the park, such as deer, elk, foxes, moose, bison, or even an occasional bear or wolf sighting!
Closest to the West Entrance of Yellowstone National Park is the most common area for travelers to visit and stay. Many of the most popular sights are nearby such as Old Faithful and the Geyser Basin. Towards the northern part of the park you will find the popular Mammoth Hot Springs. On the east side of Yellowstone National Park, you can find the Tower Falls, a cascading waterfall that sits 132 feet high and towards the south.
There are 5 main villages in the park that offer a variety of restaurants and lodging. It's best to do your research and pick the place that fits your budget and will be closest to the main areas of your interest. The fact of the matter is, there is no wrong area to stay within Yellowstone National Park though, as every place has something unique to see.
As an example, driving from Old Faithful to Mammoth Hot Springs will normally take about 80-90 minutes, but keep in mind that traffic, especially during the peak seasons, can slow things down quite a bit. Always leave yourself extra time to get where you're going, as you never know when you just might encounter a lazy bison that doesn't want to move out of the way!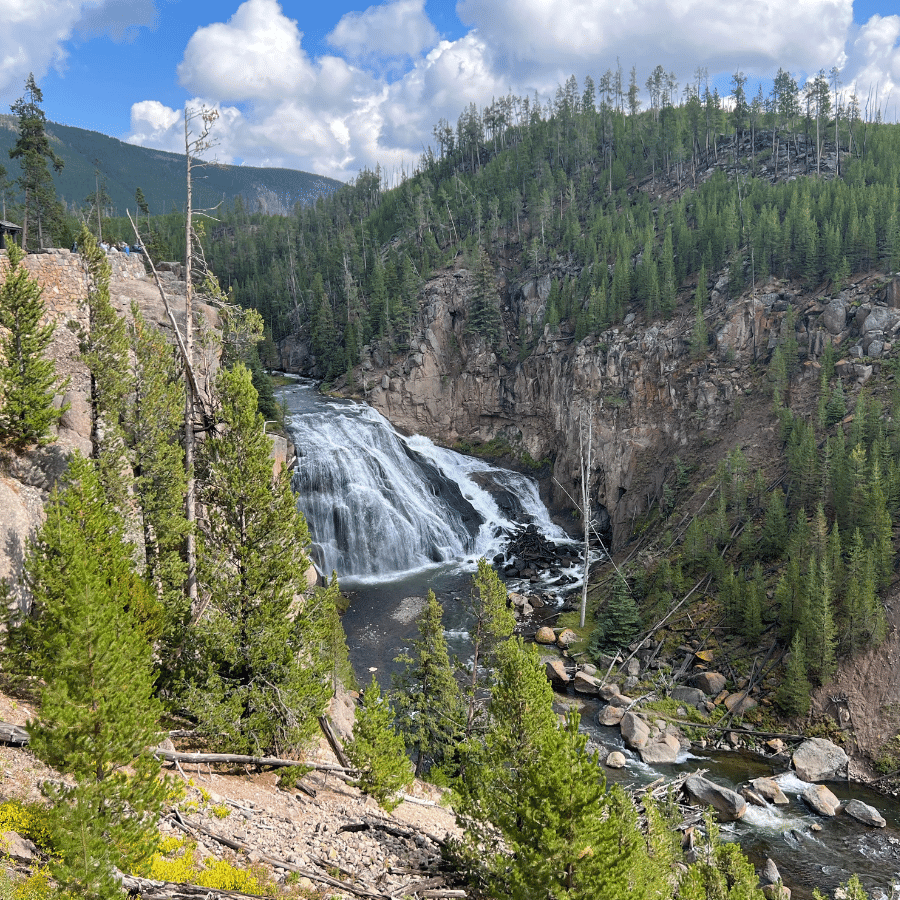 An important note to remember: while the wildlife is beautiful to look at, never feed the animals, and always keep your distance. Especially from Bears and Bison! They might look all cute and cuddly, but each year, there are always a few people that don't follow the rules and end up seriously injured! Stay 100 yards away from bears and bison and 25 yards away from everything else.
Campgrounds in Yellowstone National Park
Yellowstone National Park offers 12 campgrounds throughout the park with over 2,000sites. Five of these campsites are managed by Xanterra, while the other seven are managed by the National Park Service.
The five campsites managed by Xanterra are Bridge Bay, Canyon, Fishing Bridge RV Park, Grant Village, and Madison. These campsites can all be booked through the Yellowstone National Park Lodges website. Canyon, Fishing Bridge RV Park and Grant Village all have shower services, which is a big plus.
The National Park Services manages Indian Creek, Lewis Lake, Mammoth, Norris, Pebble Creek, Slough Creek and Tower Fall campground. All of these campsites can be booked through Recreation.gov . Campgrounds can also be found outside the park near all of the entrances as well. I love using an app called TheDyrt to find options!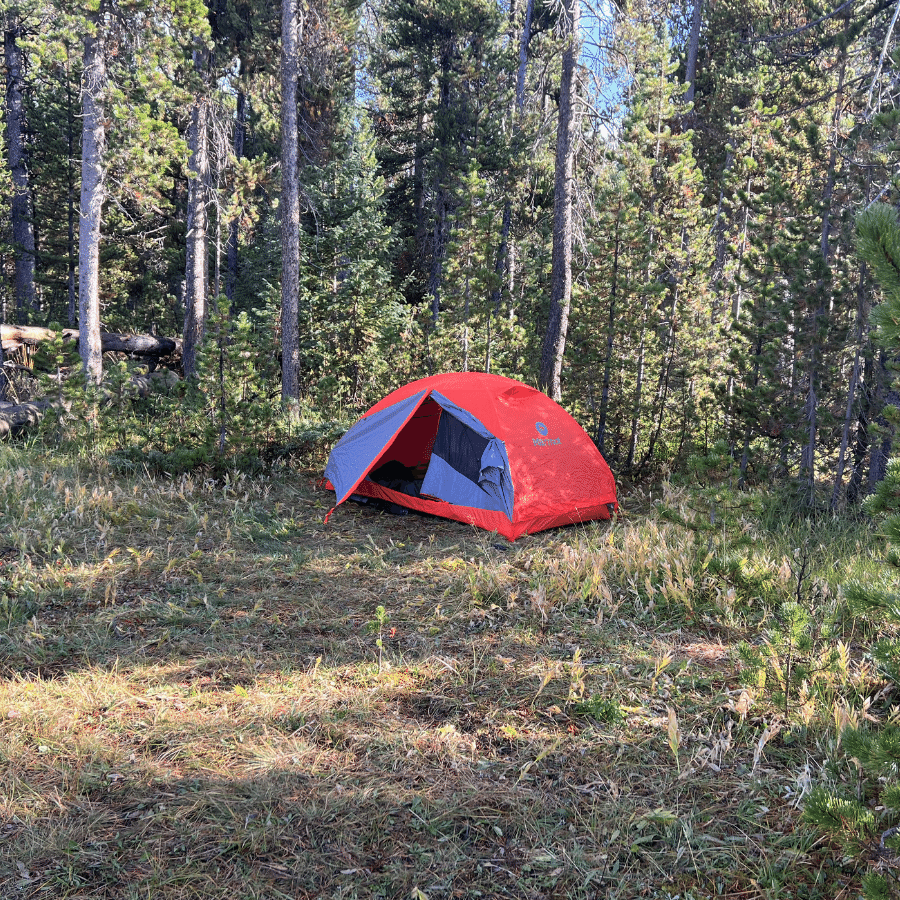 Campground opening and closing dates change on a yearly basis, so it is most important to check the website(s) for the most up to date information. If you are wanting to know more about backcountry camping, check out my full
backcountry guide to Yellowstone National Park. Remember there is the possibility of bears in the backcountry. Always be prepared, especially when it comes to food, use a bear canister.
Hotels in Yellowstone National Park
Yellowstone National Park has nine lodges within the park operated by Xanterra . They are Canyon Lodge and Cabins, Grant Village Lodge, Lake Hotel and Cabins, Lake Lodge Cabins, Mammoth Hot Springs Hotel and Cabins, Old Faithful Inn, Old Faithful Lodge, Old Faithful Snow Lodge, and Roosevelt Lodge.
The lodges within Yellowstone National Park fill up fast, so booking in advance is crucial. Similarly, campsite reservations dates change on a yearly basis, so check often for when your dates open up for reservations! If you're going to Yellowstone National Park in the winter, keep in mind that only two lodges are during the
winter season; Old Faithful Snow Lodge and Mammoth Hot Springs Hotel.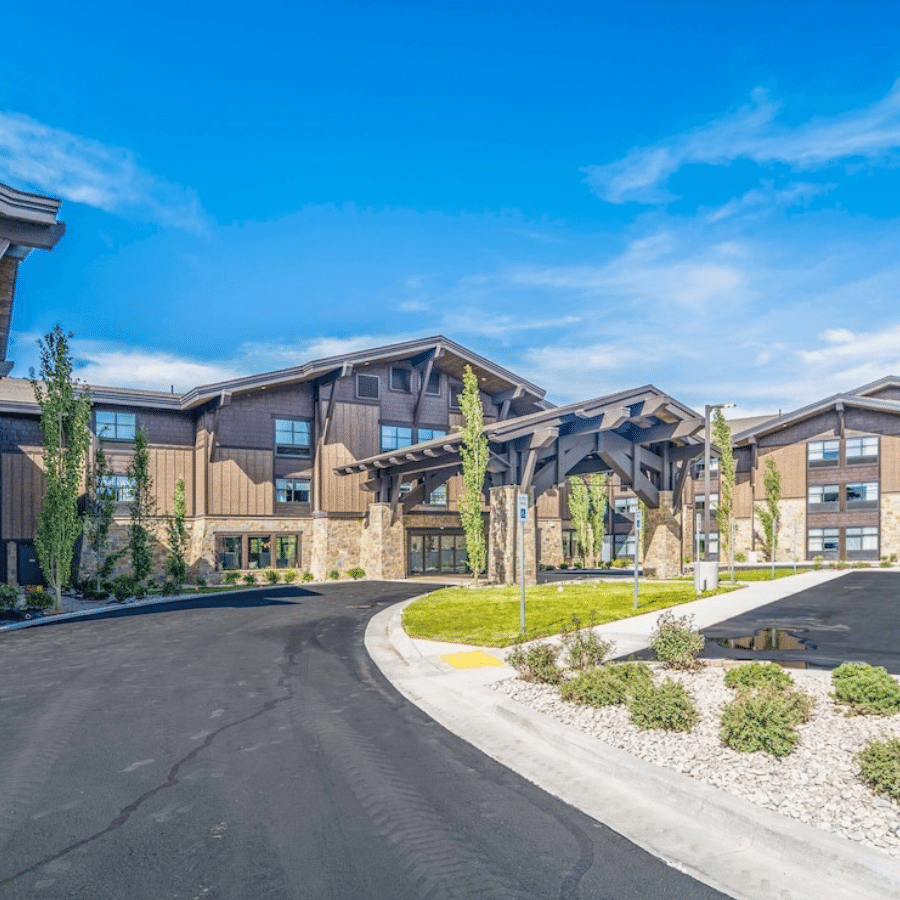 Hotels can be found near the entrances of Yellowstone National Park as well. There are a number of independent brands as well as major brand name hotels. If you are looking to save on hotel costs, you might want to consider using some of your Hotel Loyalty Points you've saved up! With options in West Yellowstone like the Springhill Suites that can be booked for 60,000 Marriott Bonvoy points per night, or the Holiday Inn for 40,000 points per night.
Vacation Rentals Near Yellowstone National Park
Another option you have is a vacation rental from popular companies like VRBO or AirBnB. There are quite a few vacation rental properties near Yellowstone National Park that allow visitors to have all the amenities they are looking for. These vacation homes can be found near the park's most scenic areas.
Vacation rentals such as Airbnb can be a great option if you are on a tight budget, or traveling with a large group. Airbnb's also allow you to have additional amenities that you might not find in the local hotels or campsites, such as a full kitchen or a jacuzzi!
You're also more likely to find dog friendly accommodations just in case you're traveling with pup! That's important, because while dogs are allowed in the park, there are a multitude of restrictions as to where they can go. You might miss out on some spectacular sights because Luna or Buddy isn't allowed on a particular walkway or trail!
The End of the Trail
There's so much to see and do at Yellowstone National Park, so finding the right place takes a little work. From rustic campsites to modern hotels and everything in between, Yellowstone has accommodations guaranteed to fit your budget and preferences. Just remember to book your Yellowstone National Park lodging well in advance, as reservations fill up fast, especially in the peak season!