Yellowstone National Park is home to some of the most breathtaking views you will find  anywhere. With more than 4,000 geothermal features, including hot springs and bubbling mud  pots. This place is without a doubt a one-of-a-kind natural wonder. With more than 562 miles  (923 km) of trails in the park. It's no surprise that this is also one of the most popular hiking  destinations in America. 
You don't need to go on a backcountry trek to see some jaw-dropping sights, though. The park offers just as many panoramic vistas along its well-maintained trail network as it does remote wilderness areas. Here are the best day hikes in Yellowstone National Park where the views will take your breath away.
Getting To Hikes in Yellowstone National Park
Yellowstone is located mostly in Wyoming, however parts of the park also spread into Montana  and Idaho. The most convenient airport to Hikes in Yellowstone National Park is Yellowstone Airport  (WYS) located just a few miles outside the west entrance. Only 2 major airlines (Delta and  United) have commercial flights in and out of Yellowstone Airport and both airlines only fly  seasonal routes to Yellowstone usually beginning in May and running through October. 
If you're looking to save some money, Bozeman Yellowstone Airport or Billings-Logan Airport in  Montana are a bit further away, but both have more commercial flights and generally cheaper  fares. From the Bozeman airport it is about a hour & a half drive to the north entrance of the  Park and about a two hour drive to the west entrance. Should you choose to fly in to Billings  Montana. It's about a 3 hour drive to the east entrance of Hikes in Yellowstone National Park. 
All three of these airports are serviced by most of the major car hire companies, but since they  are smaller market airports, finding a rental car available during peak season can be a bit  difficult. 
A little bit longer of a drive (but usually much easier on your budget as far as airfare and car  rentals are concerned) is Salt Lake City International Airport. Clocking in at four and a half  hours from SLC to the West Entrance, it's definitely pushing the limits of convenient, however  the savings can really add up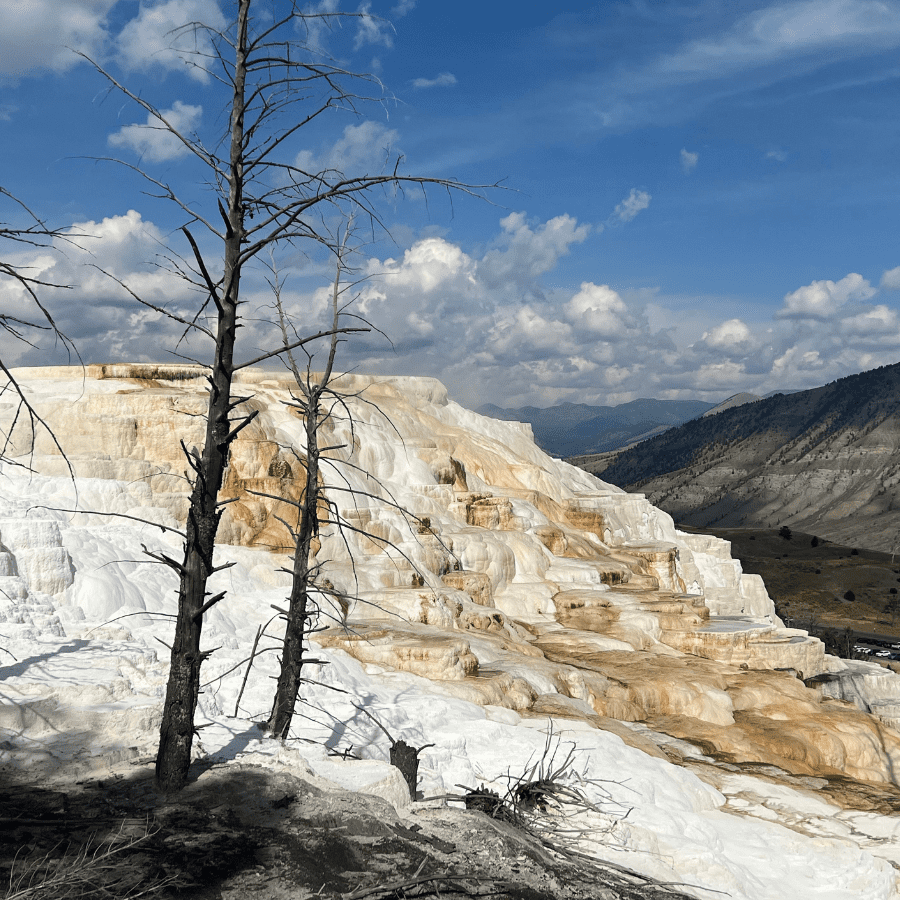 When to visit Yellowstone National Park
You've probably heard that Yellowstone National Park is open year round and as miraculous as  it sounds, that's actually correct! You'll also need to check which Park Entrances will be open as  some of them are seasonal and are only open certain months of the year. This should be a big  factor on where you decide to fly into to start your exciting Yellowstone vacation.
Most people think that the best season to visit is in the summer months from late May to late  August. This is when you will find the most ideal temperatures. Keep in mind though that  Yellowstone is a massive park and certain parts are at much higher elevation than others, so the  temperature can vary greatly from one area to another as well as from day to night.
If you are trying to avoid big crowds, try visiting on the shoulder seasons such as early May or  September. It is important to remember that these months can have unpredictable weather as  well as the possibility of snow, and not all park facilities and entrances will be open. With proper planning (and the correct gear), you'll be all set for a trip to remember!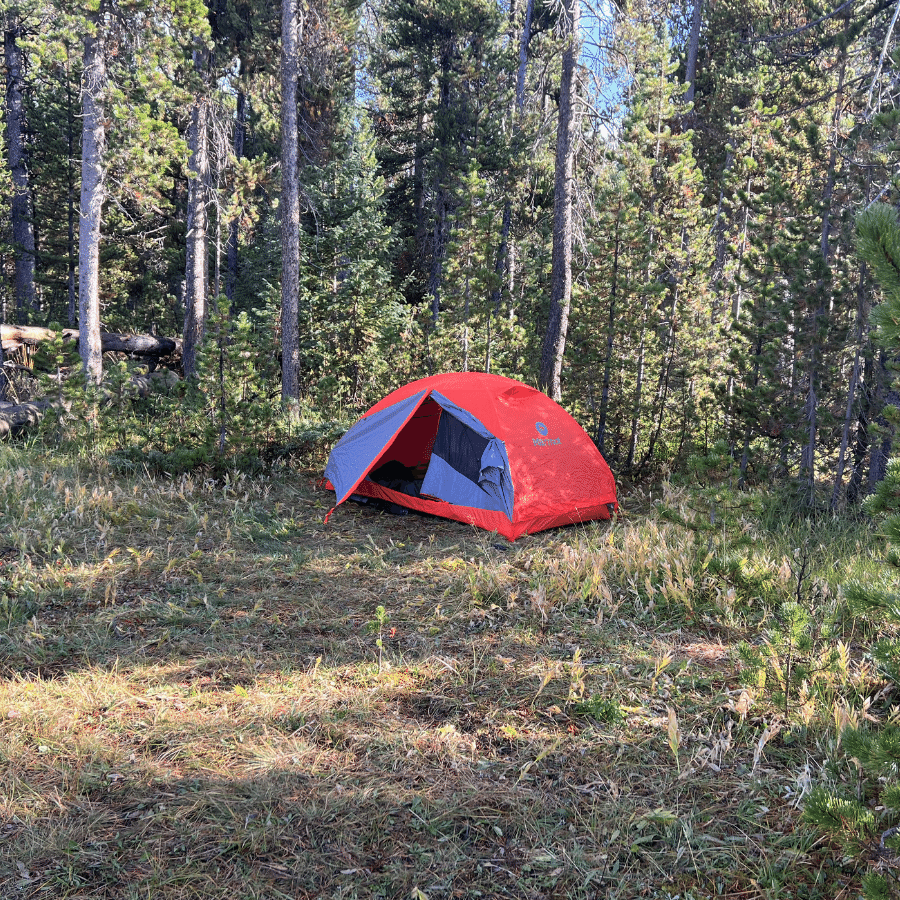 Where to Stay in Yellowstone National Park
Yellowstone National Park boasts over two million acres of explorable land and is full of natural  wonders. Choosing the right area of the park all depends on what exactly you want to see.  There are 5 main villages in the park that offer a variety of restaurants and lodging. It's best to  do your research and pick the place that fits your budget and will be closest to the main areas of  your interest. The fact of the matter is, there is no wrong area to stay within Yellowstone National Park though, as every place has something unique to see. One of the most common places to stay right outside of Yellowstone National Park is West Yellowstone. 
7 Day Hikes to do in Yellowstone National Park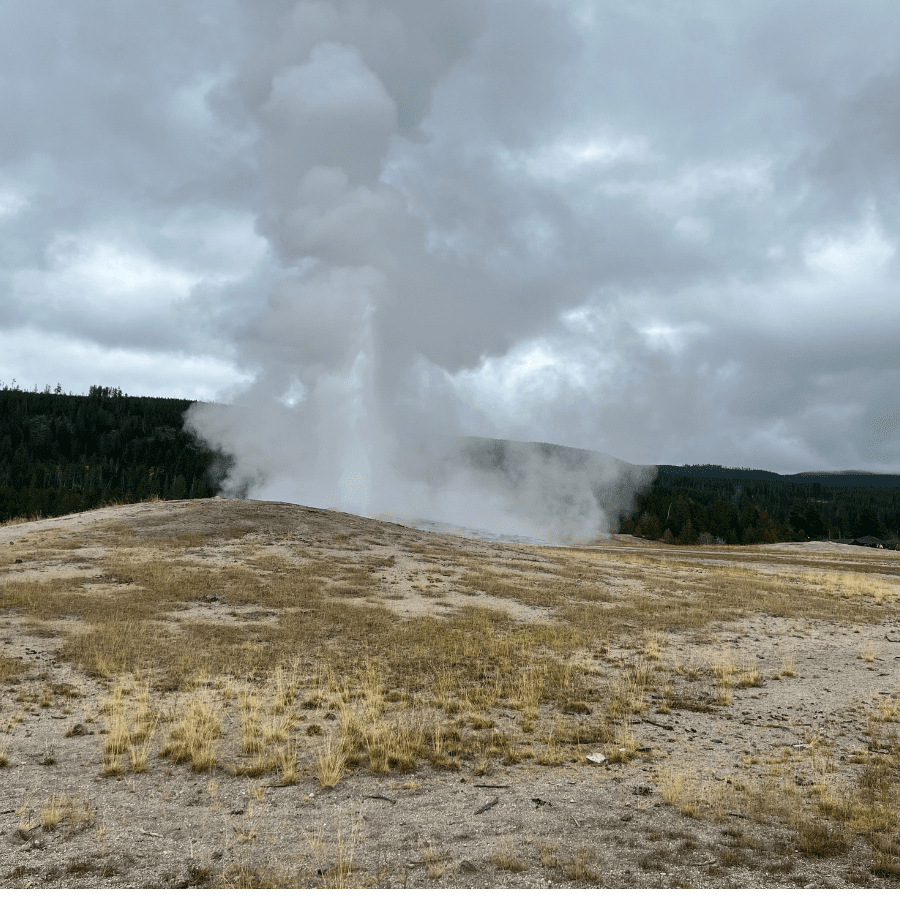 Old Faithful (and surrounding area)
Old Faithful is probably one of the most recognizable landmarks of any National Park. Although  just a short walk from a parking lot, Old Faithful is a must visit on a trip to Yellowstone.
There is  a visitor center just a few hundred feet from the geyser that will be able to give you an estimated  window of time for the next eruption of Old Faithful. You can also find gift shops, lodges and  restaurants in this area.  
Although Old Faithful is the main highlight of this area, there are plenty of miles of boardwalk  that you can hike along. This network of walkways will bring you to similar geothermal features  as well as hot springs and thermal pools.
Exercise extreme caution, though, and be sure to stay  on the designated paths as the water here is scalding hot and the crust of the earth over some  of these areas is actually quite thin and fragile. Stepping off the path and breaking through into  a boiling hot pool of mineral water is obviously not how you want to spend your vacation! 
Tower Fall
Tower Fall is a 132 foot waterfall located near the North entrance of Yellowstone National Park.  Although the portion of the trail down to the base of the waterfall has been closed for some  years, this still makes for a great short day hike. 
The trail is about a mile long roundtrip and goes down the side of a mountain. At the start of the  trail there is a nice overlook that will give you a great view of the falls. Continuing on down you  will reach the Yellowstone River, which is where the water from the falls flows into.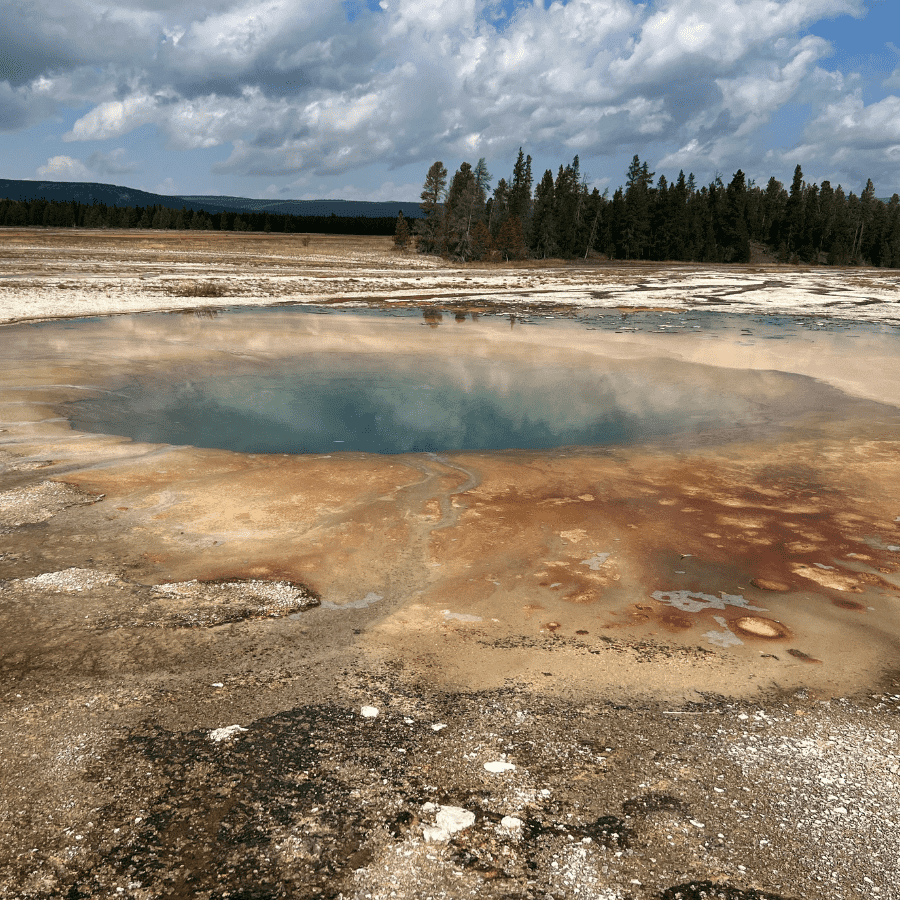 Mammoth Hot Springs Trail
Located near the top of Yellowstone National Park is Mammoth Hot Springs Tail(s). Limestone  deposits with hydrothermal features make this part of the park very unique. Being an active  hydrothermal area, it is constantly changing. Boardwalks cover the area and allow you the  chance to hike the upper, lower or both loops. 
Hiking the lower loop is quite the experience! You will have the opportunity to see some very  unique features like Pallet Spring and Terrace and Devils Thumb. This loop is not very long and  should only take around an hour to complete.  
The upper half has a 1.5 mile paved road that can be driven (no trailers/RVS) or walked. I highly  recommend driving the loop and pulling off to the side if you want to get out and take pictures. 
North Rim Trail
The North Rim Trail in Yellowstone National Park is one of the longer day hikes coming in at  about 8.5 miles long. Although technically this route can be driven, it's definitely a lot more  enjoyable hiking the trail. This will give you one of the most stunning views of a waterfall located  within Yellowstone National Park.  
If you don't plan on hiking all the way to the bottom, try to at least make it to Grand View. This  overlook area is about 3.5 miles into the hike. You'll find sweeping views of the canyon and  the falls.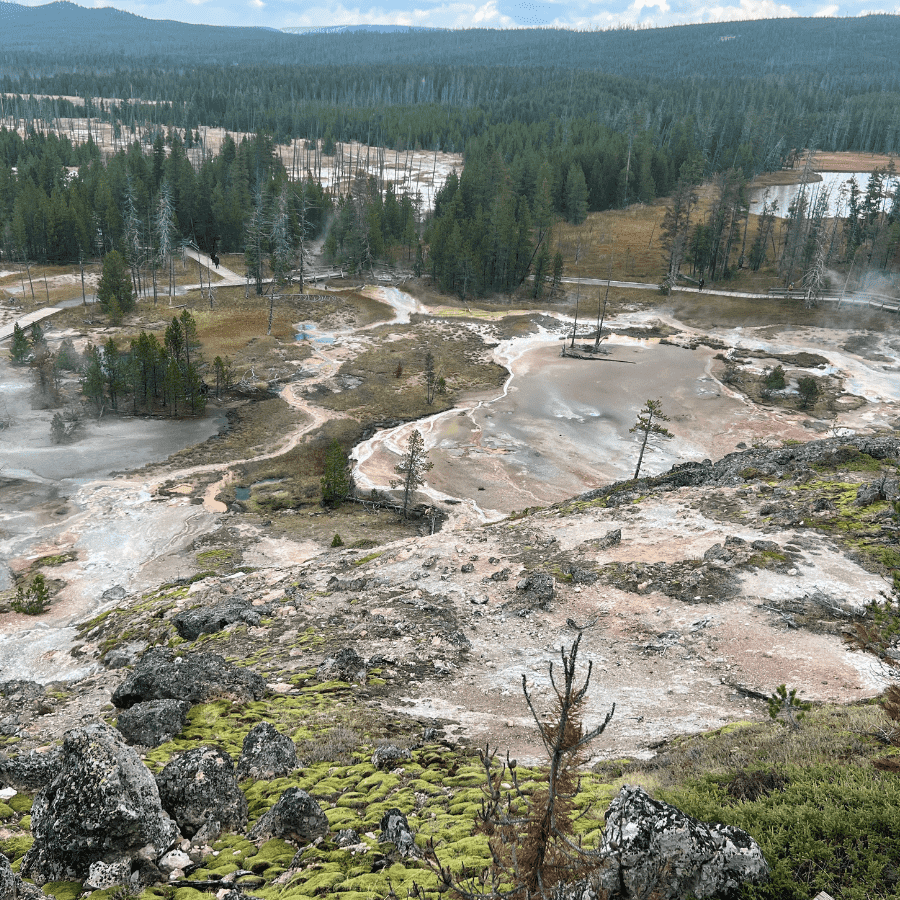 Artist's Paint Pots
Artist's Paint Pots is a collection of geysers, springs, vents and mud pits. The name of the area  comes from the colorful shades and textures that you will see. There are blues, and oranges,  and reds that surround the area.  
A short access road will take you to the trailhead. It is just over a mile to do the full loop with a  little bit of elevation gain. Make sure to check out Blood Geyser, a thermal pool surrounded by  red rock that looks like it is bleeding when active.
Boiling River
Boiling River is located near the west entrance of Yellowstone National Park. This is one of the  few areas within the park where you are actually allowed to go swimming. The parking lot is  about 0.5 miles from the river.  
Water from the Gardner River mixes with water that comes from the hot springs to create this  area. Don't let the name fool you, though! Yes, there is water coming from the hot springs, but  the temperature of the river can still be quite cold! 
Wraith Falls
Wraith Falls is located near Mammoth Hot Springs and is a short 0.5 mile hike. This trail makes  a great addition to add on to the day if you are up in the area. Although not truly a waterfall the  formation makes it look as if water is flowing downwards over a cliff.