Located right on the property line of Pico Bonito National in La Ceiba, Honduras is The Lodge & Spa at Pico Bonito. This lodge mixes its environmental location with a bit of luxury. It provides the feeling that you are in the rainforest all alone. Not only is it a lodge and spa, but they also offer a variety of activities that can be purchased such as a waterfall hike, or white-water rafting.
When booking hotels in Honduras I wasn't so sure what I would come across from some of the major American chains.
I was excited to find out that Small Luxury Hotels (which can be booked via Hyatt) had The Lodge & Spa at Pico Bonito. A small boutique hotel that has 22 rooms in the middle of pristine wilderness.
The hotel did have point redemption rates for the dates I was planning on visiting of 18,000 points per night. However, the cash rates were really affordable. Rates were between $150 to $200 a night. We were traveling as a group of three and booked the family casita that included breakfast.
The Lodge & Spa at Pico Bonito is located deep in the Hondurian Rainforest. It is a great area to disconnect from reality and explore an ecolodge. La Ceiba is the nearest town and is a common area to transfer to and from Roatan.
Check-in
I was coming from Tela, Honduras and had reached out previously to arrange transport to The Lodge & Spa at Pico Bonito. After about an hour and half drive (and a few miles of bumpy road) we reached the entrance to the lodge.
*If you are self driving I would highly recommend a SUV or truck over any sort of car*
We were greeted right as we walked in with a refreshing local punch. I did not have status with Hyatt at the time, but was surprised to find out what amenities were included. I was given an activity sheet that showed where to solo hike, guided hike times, and even how to find the serpentarium located on site.
The Room
The standard rooms are 419 square feet and have a king bed. As we were traveling with three we opted to get the family casita as it was cheaper than booking two individual rooms. The family casita is on the opposite side of the property than the normal rooms, so it is a short walk from the lobby.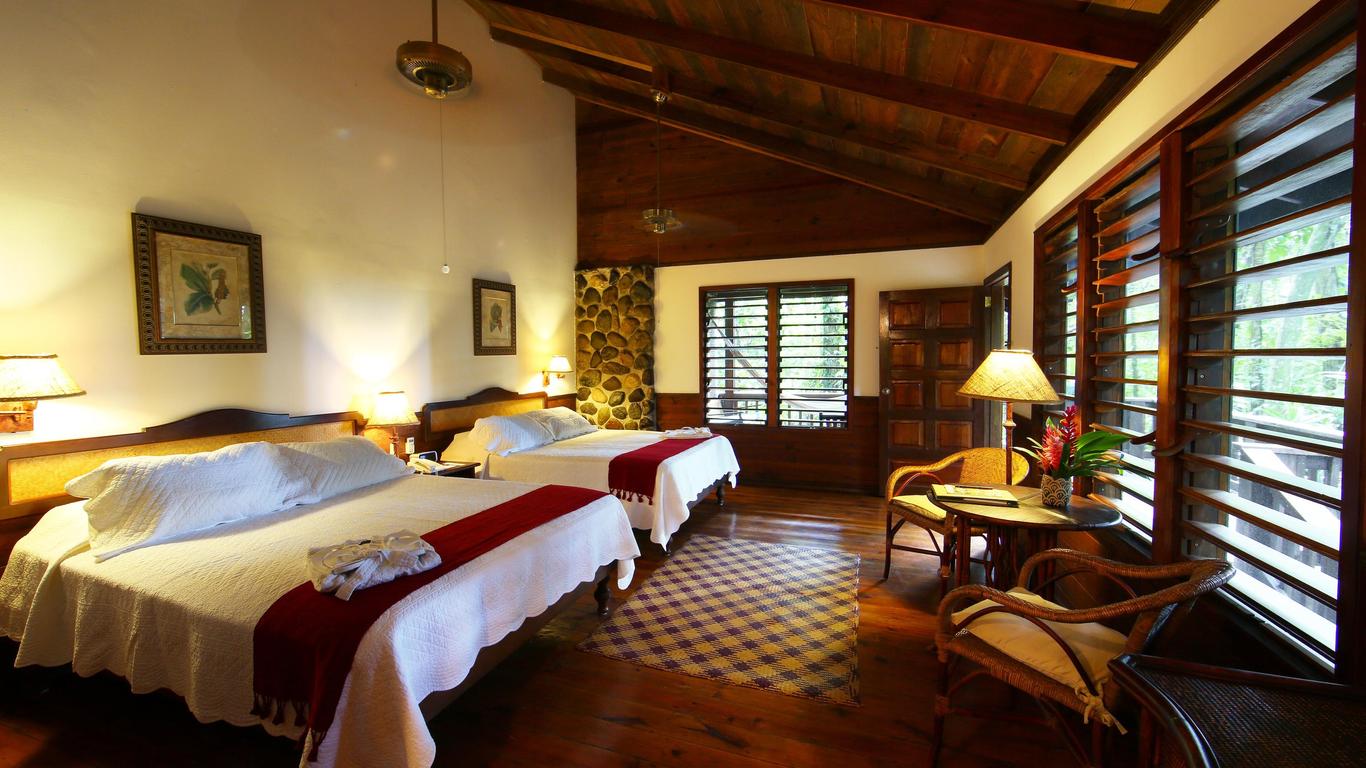 The family casita consisted of two bedrooms, one having a queen bed, and the other having a king bed or the option to have two single beds. Both rooms had a self-controlled air conditioning unit. Both bedrooms had their own full bathrooms.
The family casita also included a full kitchen and dining area for social gatherings. The kitchen and dining area did not have a self-controlled air conditioning unit (was a work in progress). I found that the fans provided plenty of air flow to make myself comfortable.
The major downside of the family casita that I found was the lack of internet connection. I know, I know… we are in the middle of a beautiful jungle and I am complaining about the wi-fi. The lodge has great speeds, and the normal rooms can easily connect. However, the distance seems to be just out of range for the family casita to really get any connection. So, when I needed to send an email I had to go back to the main lodge.
Food and Beverage
Onsite there is only one restaurant that serves breakfast, lunch, and dinner called Itzama. Breakfast was included in the rate and everyday we were provided a menu with a few selections, all served with fresh fruit. The portions were generous, and the food was good.
We dined here one night and similar to breakfast the menu was on a smaller size. I went with a pasta dish since I had been out hiking all day, and the portion was very filling.
The front desk helped arrange transportation for other nights for us to have dinner in-town and provided a lot of good recommendations.
Activities and Amenities
To me this is where the lodge really shines, it has a large variety of different activities that they offer throughout the week. There is a self-guided hiking trail that is well marked throughout the property and even brings you to a cool fire tower overlook that you can climb.
I also took advantage of hiking with a guide, and this was amazing. This was something that was included in the rate and I had a half-day free and I thought why not take advantage of it. There were only three of us on the hike and we went for about a 5 mile loop hike. The hike passed by a waterfall and a few swimming holes that we were able to jump in.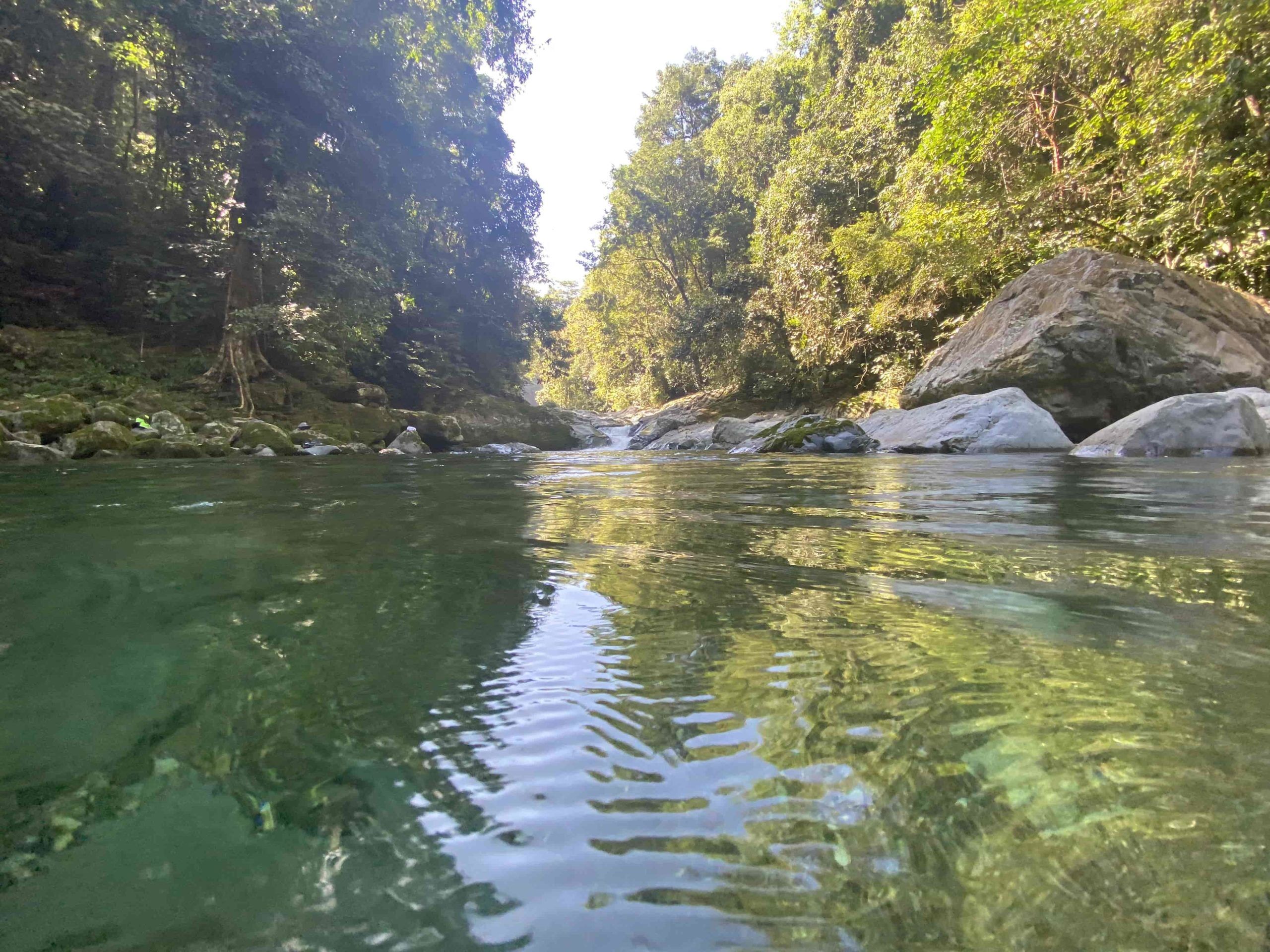 Another day I had time to visit the serpentarium, which is an area that maintains habitats for snakes. This was something unique as I have never seen one outside of a zoo really. On display were a lot of snakes that can be found throughout Honduras and some short facts about them.
Some of the other activities that were on the schedule that they had were bird watching, a butterfly garden, and star gazing.
The lodge also offers plenty of other activities that you can book, such as white water rafting. Sadly I did not have the time to try this out. They did mention that a lot of other hotels in the area offer the same types of tours and activities so if a large enough group is not staying at one place they can combine the groups so that the activity is possible.
Right outside the main lobby of the lodge there is the pool. It is on the smaller side with about 4 or 5 loungers by the pool. I will say I never saw anyone else at the pool other than myself, so for me it was the perfect size. I could imagine if the hotel was fully booked it might have been a different story.
There is a spa on site, but it had very limited hours when I was visiting. The front desk mentioned that if something is scheduled they will make sure they have someone on site to perform the service. Although I didn't have any services, the prices seemed to be reasonable.
Overall
The Lodge & Spa at Pico Bonito is a hidden gem among the Honduras rainforest for those who are looking for an eco-friendly getaway.
I loved that the lodge offered plenty of outdoor activities for those who wanted to adventure, but also had the option to sit back and relax at the pool or the spa.
Although limited options for meals making a longer stay seem a little repetitive the staff were very friendly to offer alternatives nearby and help arranging the transportation.