Are you looking for some awesome trails in the Great Sand Dunes National park? If so, then definitely check out these top four hikes. 
The Great Sand Dunes National Park is located in western Colorado, USA. This national monument has over 100 miles of trails that offer breathtaking views of the sand dunes and the surrounding prairie. 
There are several types of hikes that you can take at the Great Sand Dunes. These include short walks, long hikes, and even overnight trips 
Trevorocity is reader-supported. When you buy through links on this site, we may earn an affiliate commission.
Getting To Great Sand Dunes National Park
Getting to the Great Sand Dunes National Park can be a bit arduous. Unfortunately, there is no major airport close by.  The easiest airport to fly into to get to Great Sand Dunes National Park is the Denver International Airport (DEN). You'll then have to drive about four hours to reach the Park. Denver is the most convenient airport because it is serviced by almost every major airline, you can generally find good fares, and there are plenty of options for renting a car.
Two alternative airports you can fly to are Colorado Spring Airport (COS) and Albuquerque Airport (ABQ). The Colorado Springs Airport is heavily serviced by Frontier.  On the plus side, you can usually find some amazing fares, however, finding a direct flight is usually a little more difficult. You'll also save some time on driving, as it is only a two and half hour drive from the airport to the park.
The Albuquerque Airport, like Denver International Airport is about a 4 hour drive from Great Sand Dunes National Park.  There is one major benefit of flying into Albuquerque:  the car rental prices tend to be a lot cheaper than in Colorado.
When to visit Great Sand Dunes National Park
The Great Sand Dunes National Park has extreme weather on both ends of the spectrum. During the summer months (June, July and August), the average high temperature can get to around 80 degrees Fahrenheit. Although this might not seem that hot, there is virtually no shade at Great Sand Dunes National Park and the sand can heat up to 150 degrees Fahrenheit.
On the other end, the winter months will get below freezing, and sometimes well below! In January, the average low temperature is only 9 degrees Fahrenheit (-13 C). You'll only see a very small increase of the average low in February and March. You can also expect it to snow during these months as well. 
The temperature is the deciding factor on when the best time to visit the Great Sand Dunes National Park is; between late August and mid October. Although there will be higher chances of rain, the temperatures are much more bearable!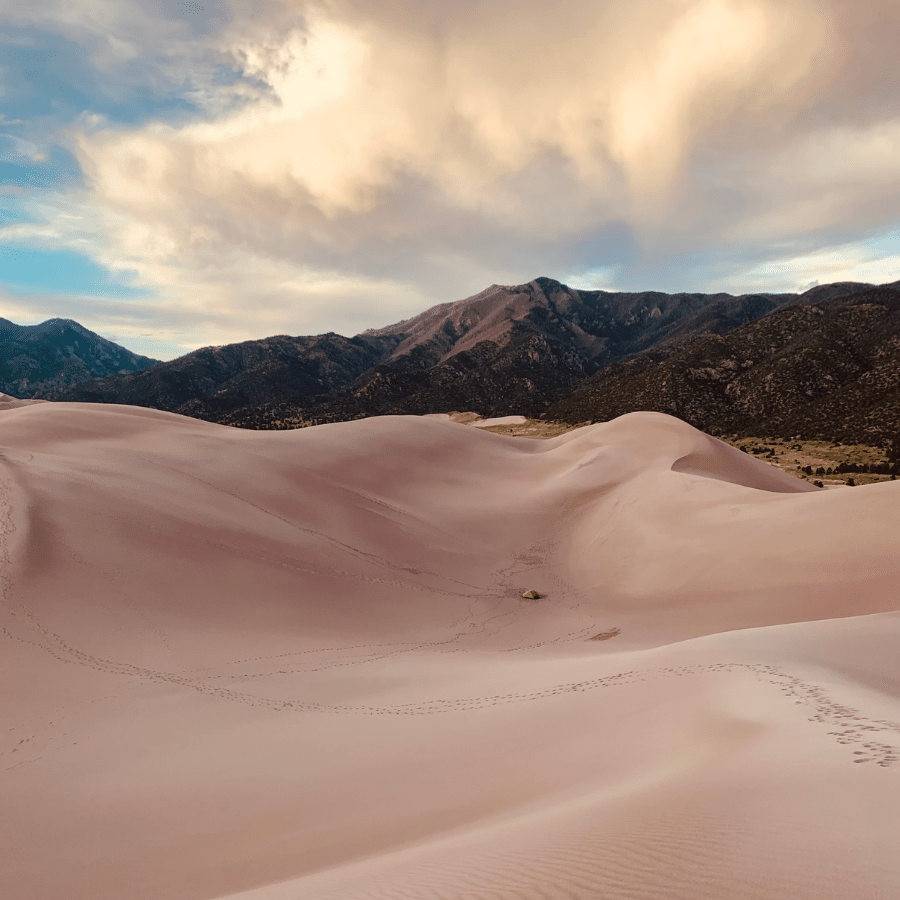 Where to Stay in Great Sand Dunes National Park
If you are planning on camping, the best place to stay is inside Great Sand Dunes National Park. I highly recommend going on a backcountry adventure and camping within the dunes. You might get a bit sandy, but it is an unforgettable experience!
Sadly, there are no hotels or other lodging options located inside Great Sand Dunes National Park. Cities such as Crestone (about an hour drive), or Alamosa (about a 30 minute drive) have plenty of lodging options. VRBO also offers a number of unique places to stay near the park.
4 of the Best Hikes to do in Great Sand Dunes National Park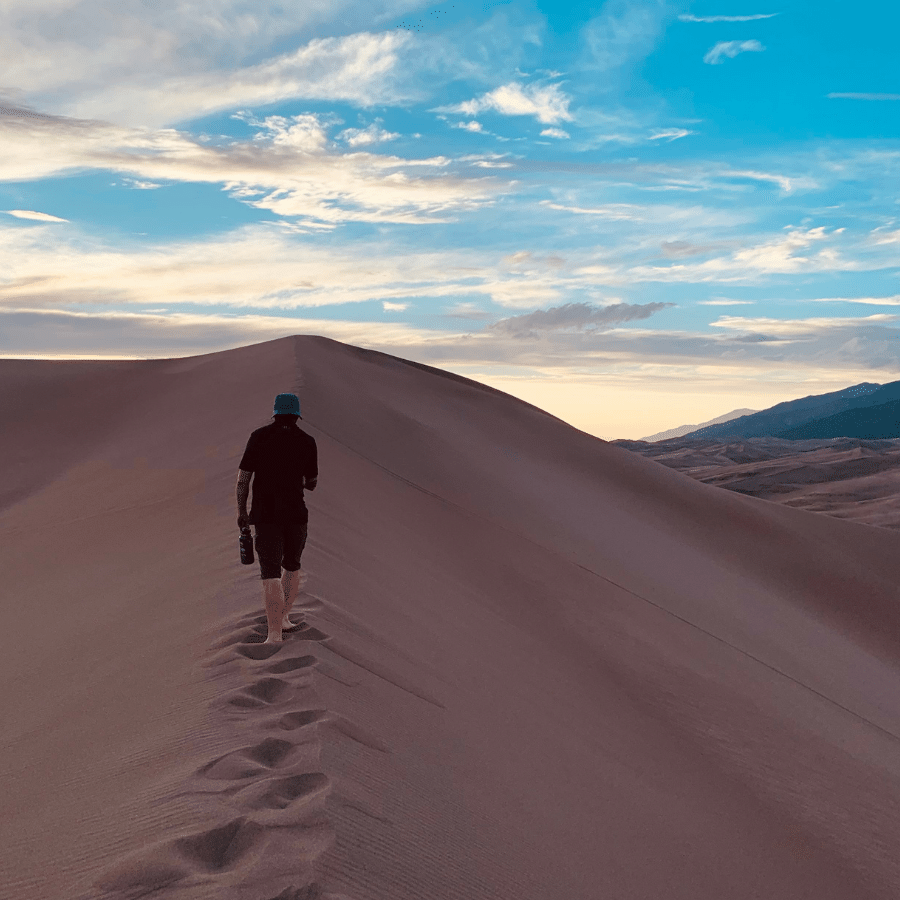 Star Dune
Star Dune is probably the most recognized hike that Great Sand Dunes has to offer. Although it tends to be one of the busier trails, it is worth it. Star Dune is tied for the tallest sand dune in North America, standing at 741 feet tall. There isn't a designated trail, other than footprints, while hiking Star Dune.
It can be hiked from the summit of High Dune, but an easier way is to start from the parking lot and hike Medano Creek until the dune comes into sight and follow the ridge line. 
Just a reminder, there is a very limited amount of shade when hiking Star Dune. It is best to start early before the sun comes up. This will also help you beat the crowd of people in the midday that are trying to hike it.
Hidden Dune
If you are looking to avoid a crowd, but still climb a tall sand dune, then Hidden Dune is a good alternative to Star Dune. Hidden Dune also stands at 741 feet tall, but can not be seen from the parking lot. 
Similarly to Star Dune, there is a very limited amount of shady areas.  It is best to hike it during the early morning to avoid getting overheated. Expect to hike around 7 miles if you plan on reaching the top of Hidden Dune. Also, don't let the false summit fool you! Once you are over it, though, it is just a short hike to the top
Mosca Pass Trail
The sand dunes are the most commonly visited part of Great Sand Dunes National Park, however there are many other areas to explore. If you are looking for a hike away from the dunes, Mosca Pass Trail is worth checking out. 
This 7 mile hike follows a small stream to the summit of a narrow pass. Overall the views of the dunes aren't the best, but the aspen and evergreen forest is very scenic. This trail will also help you avoid the crowds, as it is not commonly traveled.
Upper Sand Creek Lake Trail
If you are looking for a challenging day hike in Great Sand Dunes National Park then Upper Sand Creek Lake Trail is for you. This 7.4 mile out and back hike gains over 1,900 feet of elevation on the trail. 
Although most of the trail is covered in forest, once you reach the top it has great views of the surrounding area. Recently there has been a lot of debris on the trail, so it does require some climbing over downed trees and stumps.