Aruba, Bonaire and Curacao are known as the ABC islands. These spectacular tropical islands all have their own appeal. Aruba is a heavy night-life island, while Bonaire is quite the opposite. It has a much more laid back and go with the flow type of vibe.
If you're looking for top-notch scuba diving in an unspoiled natural environment, then Bonaire is your best bet. Divers fly from all over the world to get the chance to dive on this beautiful island.
From the United States most of the larger commercial airlines such as Delta, American, and United all fly to Bonaire. They do not fly everyday to the island so you might have to play around with dates depending upon your departing city.
If you are trying to visit multiple of the ABC islands EZAir offers flights between all of the islands and it is relatively inexpensive. Although it has been talked about in the news with possibilities of having a ferry service, currently none exist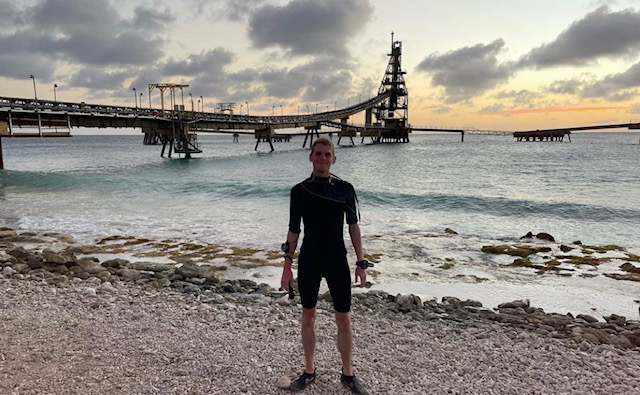 When to go Scuba Diving in Bonaire
The island's peak tourist season runs from December through April, although this is the peak tourist season you can still find yourself alone in areas of the island. Low season runs from May through October and usually tends to be on the windier side.
Hurricane season usually starts around June in the Caribbean, however Bonaire (and the other ABC islands) are outside of the hurricane belt. There may be some additional rainstorms, but they tend not to last the whole day. 
Bonaire is a great destination to visit year round for scuba diving, even in the low season waters tend to be calm and water temperatures are still pretty warm.
Where to Stay when Scuba Diving in Bonaire
There are plenty of options for places to stay when staying in Bonaire from hotel chains, to Airbnbs, and of course dive hotels.
If you are trying to stay at a hotel chain while using points, Marriott has the Courtyard Bonaire Dive Resort. Right now it averages about 16,500 points per night. The big downside is that although it is listed as a Dive Resort the dive shop is no longer located here. Once COVID-19 hit the island, the dive shop here closed. The hotel still allows you to use lockers to store gear and use the wash tubs. Luckily there is a dive shop 3 minutes up the road. Currently this is the only big chain (Marriott, Hilton, IHG, etc.) hotel on the island.
Of course there are also plenty of places that will offer stay and dive packages, which can save you quite a bit of money. A couple of the ones that I had looked into during my stay were Buddy Dive Resort and Sand Dollar Bonaire. Both had really good rate packages that included scuba diving, rental car, and accommodations.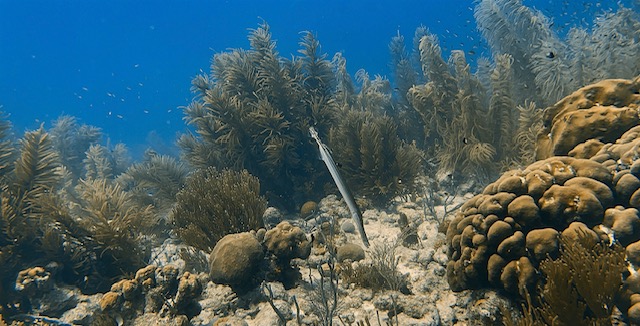 Best Dive Shops in Bonaire
There is no shortage of dive shops within Bonaire. You will practically see one on every corner. One of the best dive shops that I found while visiting Bonaire was Dive Friends. Dive Friends has a unique set up on the island; they have multiple locations up and down the coast. With shore diving being so common this is really helpful.
I went with an unlimited shore diving package ($34USD/day), which allowed me to get air from any of the Dive Friends locations. If I picked it up from one location I could drop the empty tanks off at a different one and grab new ones. I found this really beneficial, because although Bonaire isn't huge it can take a while to get to different dive sites.
While I was visiting Bonaire I also decided that it was time for me to become certified as an advanced adventure diver through SDI. I was struggling a bit to find a dive shop that would certify with SDI, as most were PADI. I came across TDS Bonaire, located at Captain Don's.
TDS Bonaire was more than helpful with everything I needed to become certified. It was very personalized (I was the only one taking the class), so it was 1 on 1 the whole time. I was required to do 5 dives, and I ended up completing my course in 2 days. It was also great that they let me complete the e-learning before my arrival to Bonaire so I didn't have to waste any additional time. 
Of course there are plenty of other dive shops on the island, and others might fit your needs better, these were the ones that just worked best for my visit.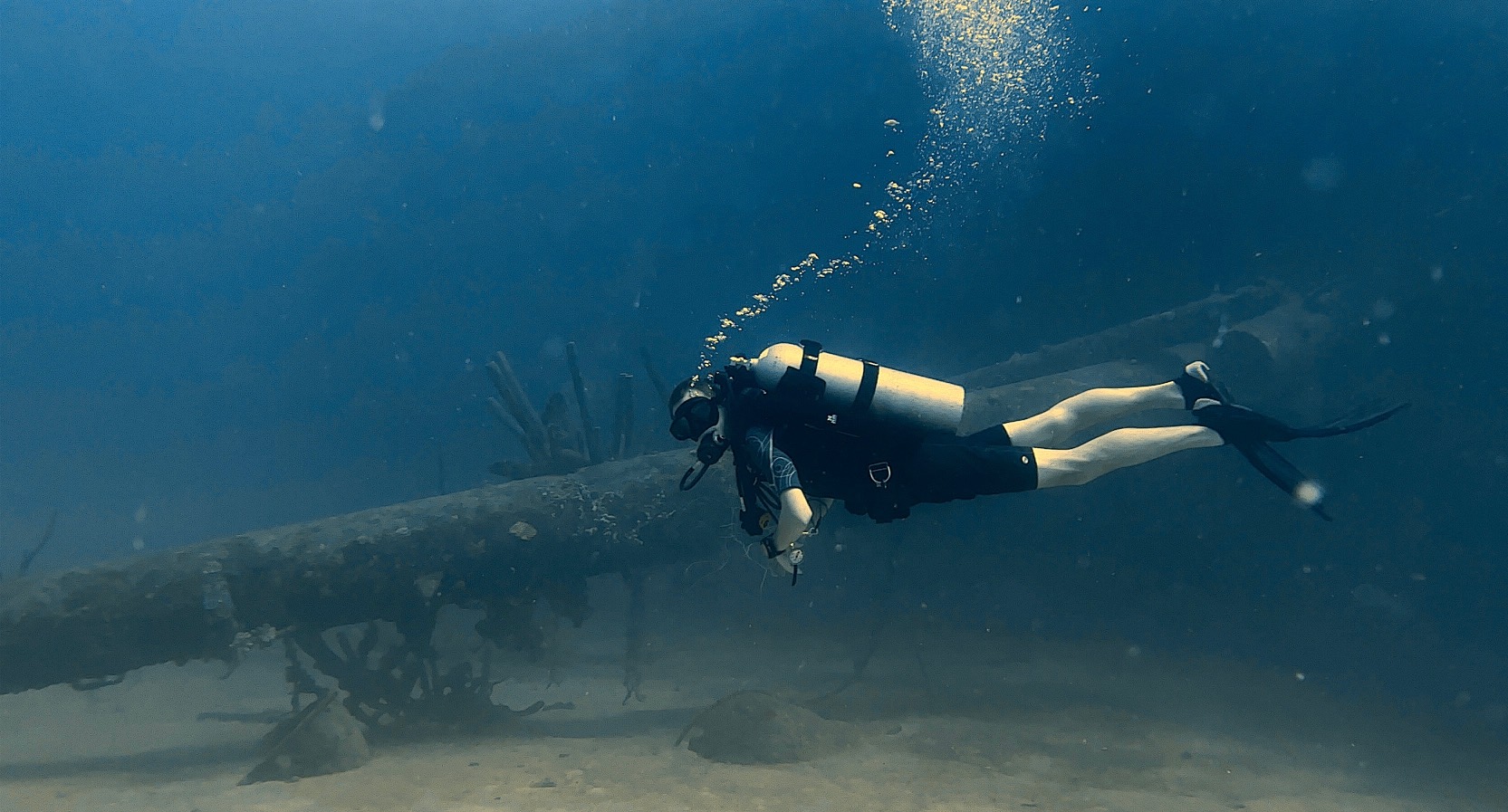 Best Dive Sites in Bonaire
Bonaire boasts 63 official dive sites off the main coast of the island, and an additional 26 on Klein Bonaire. Dive sites are usually marked with a painted yellow rock indicating the name. I would argue that every dive site that I dove during my trip was unique in its own way, however here are some of the best dive sites speaking to multiple divers, and dive shops;
Hilma Hooker
The Hilma Hooker is a shipwreck located off the coast of Bonaire. The ship was sunk in 1984, and was used as an artificial reef. It is now full of coral, and an abundant amount of wildlife can be seen. The bottom of the ship sits right around 99 feet, so dive time is limited.
Salt Pier
Cargill has a big export of salt from the island of Bonaire. As long as no ship is docked you are able to dive at the pier. The pillars are full of different sponges and corals. This makes an amazing night dive! 
1000 Steps
Although not actually a 1000 steps (it sure feels like it though), this site requires you to carry your gear up and down stairs. This is a shallow dive but there are a lot of cool corals and even the possibility of seeing turtles.
Bari Reef
If you are looking to see a diversity of fish then this is the location for you. If you dive this reef you will most likely see fish that you do not see anywhere else in Bonaire. It is crazy the amount of large schools that we swam by.
Oil Slick Leap
Oil Slick Leap gets its name from a proposed oil drilling project that never occurred. To get to the site you have to "leap" off of a rock and into the water. This is a great drift dive site that gets out at Karpata. This is also a great dive if you want to see barracudas.
Other Things to Know about Scuba Diving in Bonaire
Pay a few extra dollars for a rental truck – Since a large majority of divers are visiting Bonaire to do shore diving, having a vehicle is essential. Some of the dive sites are located on roads that are not well maintained, and having a truck will make your life easier. I also saw a lot of people struggling to get their gear on from a small little car. 
Remember to pay your STINAPA fee – Bonaire requires all divers pay a mandatory $45 marine park entrance fee (also grants access to the National Park). This fee can be paid online, and is good for the calendar year. I screenshotted my payment in case someone asked for it while I was diving, but never had to show anyone. 
Remember a dive buddy – The great thing about shore diving is that you can go when you'd like. Always remember to dive with someone else, as solo diving can be extremely dangerous. 
There are other things to do in Bonaire – Although Bonaire is known for scuba diving, there are plenty of other things to do on the island both on land and in the water.