Welcome to the ultimate Zion National Park packing list guide!
Zion National Park, a desert paradise, offers breathtaking vistas, towering red rock formations, and a range of thrilling outdoor activities. Whether you're planning a day hike, a weekend camping trip, or a week-long adventure, being well-prepared is essential for the ultimate adventure.
In this comprehensive packing list, we've covered everything you need to ensure a memorable journey through Zion's stunning landscape including the Narrows, and Angels Landing.
Trevorocity is reader-supported. When you buy through links on this site, we may earn an affiliate commission.
Best Time to Visit Zion National Park
Zion National Park's appeal is a year-round phenomenon, but the best time to visit largely depends on your preferences and what kind of experience you're seeking.
Spring, from March to May, offers mild temperatures, colorful wildflowers in bloom, and is perfect for canyoneering and water hikes due to high water levels in the Virgin River. While it sees fewer crowds compared to the summer months, early spring may still have some lingering winter closures and muddy trails.
In contrast, the summer season (June to August) welcomes warm and sunny weather, making it suitable for all outdoor activities. With extended daylight hours, you have more time to explore. However, this period comes with scorching temperatures and the highest number of visitors, so planning your visit wisely is crucial. Keep in mind the potential for afternoon thunderstorms during the summer.
Fall, from September to November, offers mild temperatures, fewer crowds than summer, and showcases breathtaking fall foliage in the canyons. It's an ideal time for hiking, with generally stable weather conditions. As the season progresses, late fall may require warmer clothing, especially at higher elevations.
Finally, the winter season (December to February) is the least crowded, offering a serene experience amid snow-covered landscapes. It's a prime time for photography and solitude. However, some trails and park roads may be closed due to snow and ice, and cold temperatures can limit certain outdoor activities.
The Correct Clothing to Pack for Zion National Park
Spring (March - May)
Layered Clothing: Spring in Zion can bring both chilly mornings and warm afternoons. Pack lightweight, moisture-wicking base layers, a medium-weight insulating layer, and a waterproof shell.
Hiking Pants and Shorts: Comfortable pants and shorts for different trail conditions.
Long-Sleeve Shirts: For sun protection and bug resistance.
Hiking Boots: Sturdy, waterproof boots with good ankle support.
Sun Hat: Wide-brimmed hats to shield from the sun.
Summer (June-August)
Summer is peak tourist season in Zion National Park, with warm days and mild evenings. It's the perfect time for outdoor adventures. Ensure you have the following for a summer visit:
Lightweight Clothing: Breathable fabrics like nylon and moisture-wicking materials.
Shorts and Tank Tops: For hot temperatures, choose lightweight, moisture-wicking materials.
Hiking Sandals: For water hikes, such as The Narrows.
Sunscreen: High SPF sunblock and lip balm.
Sunglasses: Protect your eyes from the sun's harsh glare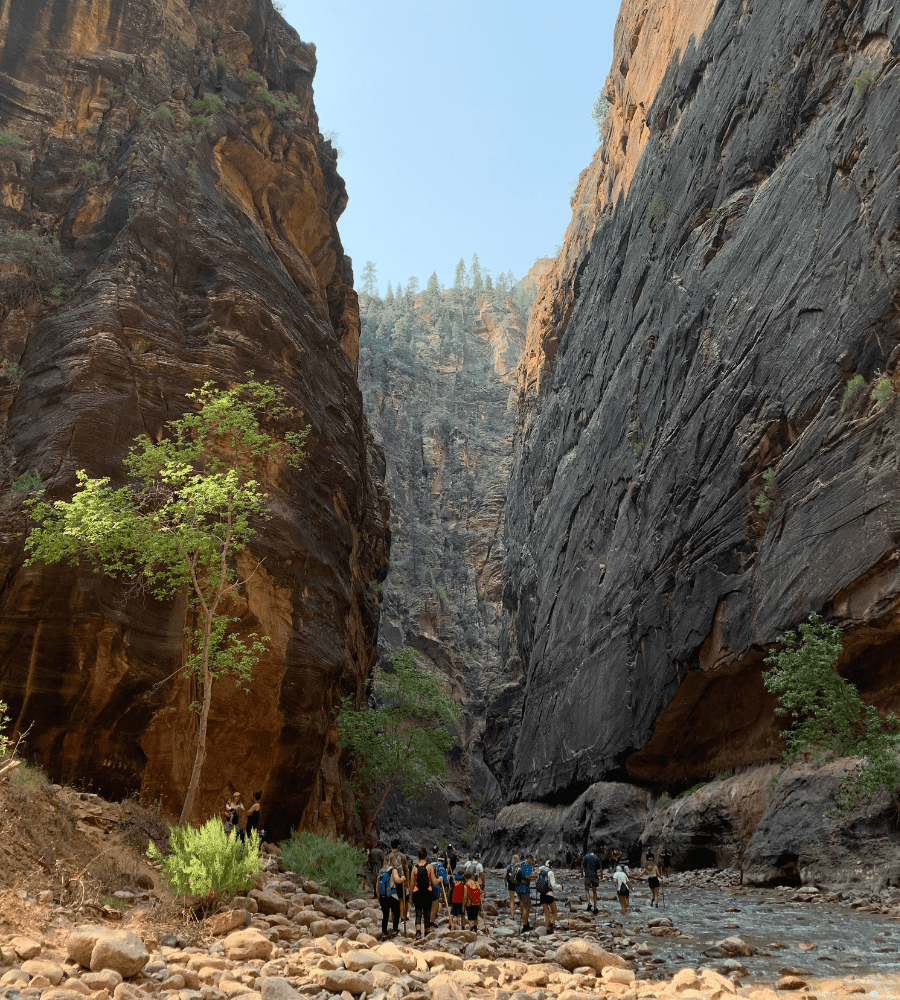 Fall (September - November)
Layered Clothing: Like in spring, but you can opt for slightly warmer outer layers.
Long Pants: To protect against cooler evenings.
Light Gloves: For chilly mornings.
Hiking Boots: As in spring, for terrain support.
Winter (December - February)
Insulating Clothing: Thick fleece, down jackets, and thermal layers.
Insulated Pants: To keep warm in colder weather.
Warm Gloves and Hat: Essential for winter hikes.
Gaiters: To protect your lower legs from snow and cold.
Outdoor Gear for Zion National Park Adventures
Day Hike(s)
Daypack: Your daypack is your essential companion for carrying all your hiking necessities. Look for a pack with adjustable straps and good weight distribution. It should be large enough to carry water, snacks, extra layers, and safety essentials.
Water Bottles or Hydration System: Staying hydrated is crucial in Zion. Carry a few water bottles or a hydration bladder with a hose for easy sipping on the trail. Ensure you have enough capacity to last the duration of your hike.
Hiking Poles: These are especially beneficial on steep or uneven terrain. They provide balance and reduce strain on your knees. Choose adjustable ones for versatile use.
First Aid Kit: Your first aid kit should include adhesive bandages, antiseptic wipes, blister treatment, pain relievers, medical tape, and any personal medications. It's crucial to be prepared for minor injuries on the trail
Headlamp/Flashlight: In case your hike lasts longer than expected, a reliable light source is essential. Ensure it's fully charged and carry spare batteries.
Backpacking and Multi-Day Hikes
Backpack: For multi-day hikes, choose a backpack with an appropriate size and good weight distribution. Look for one with multiple compartments and adjustable straps to fit your body comfortably.
Tent and Sleeping Bag: Select a lightweight, compact tent suitable for your trip's length and terrain. Ensure your sleeping bag is rated for the expected temperature range.
Camp Stove and Cookware: Invest in a portable camp stove and lightweight cookware to prepare meals on the trail. Fuel canisters should be compatible with your stove.
Water Filtration System: Access to clean water is a must. Carry a water filter or purification tablets to make water from natural sources safe to drink.
Multi-Tool or Knife: A multi-tool with pliers, scissors, a knife, and other useful features can be invaluable for various campsite tasks.
Repair Kit: Include essentials like duct tape, spare tent fabric, extra cord, and repair tools for emergency fixes.
Bear Canister: If you're camping in areas with bears, you may need a bear-resistant food canister to protect your food and prevent bear encounters.
First Aid Kit: Your first aid kit should include adhesive bandages, antiseptic wipes, blister treatment, pain relievers, medical tape, and any personal medications. It's crucial to be prepared for minor injuries on the trail.
*This list focuses on the three main backpacking seasons (Spring, Summer, and Fall). If you plan on hiking in the winter months please bring winter gear.*
Designated Campgrounds
Campsite reservations fill up fast for Zion National Park, so make sure to book in advanced. Additionally most designated campgrounds have a designated food storage area, so no need for a bear canister.
Camping Permit: Make sure you've obtained the necessary permits for camping in the park. Check the specific regulations for the campground you're staying in.
Tent and Ground Tarp: Choose a tent that's appropriate for the campground's terrain and size restrictions. Carry a ground tarp to protect your tent's floor.
Sleeping Pad: A good quality sleeping pad not only provides comfort but also insulation from the cold ground.
Campsite Cooking Equipment: Depending on the campground's regulations, you might need a camp stove, cookware, and utensils. Be sure to follow any fire restrictions.
Essential Weather Gear to Pack for Zion National Park
Waterproof Jacket: A high-quality, lightweight, and breathable waterproof jacket with sealed seams is a must. Look for one that also has an adjustable hood to keep you dry during unexpected rain showers. Consider a jacket that can be packed down for easy storage in your daypack.
Waterproof Pants: To complete your rain gear, invest in waterproof pants that can be easily slipped over your hiking pants. These will keep your lower body dry and comfortable during wet conditions.
Base Layers: In colder seasons like winter and early spring, wearing moisture-wicking base layers helps regulate your body temperature and keeps you warm. Look for materials like merino wool or synthetic fabrics.
Fleece or Insulating Layer: Layering is essential. A fleece or insulating layer traps heat close to your body and provides extra warmth. Choose one based on the expected temperatures during your visit.
Warm Gloves: In colder months, pack a pair of warm gloves to protect your hands from cold temperatures and strong winds. For extra versatility, consider a pair that allows for touchscreen use.
Hat: A warm, insulating hat is essential during colder seasons. It helps retain heat and keeps you comfortable in chilly conditions. For sun protection in the warmer months, bring a wide-brimmed hat.
Sunscreen: UV radiation can be intense in the Zion area, even during cooler seasons. Carry high SPF sunscreen to protect your skin from sunburn.
Sunglasses: Invest in a good pair of polarized sunglasses with UV protection to shield your eyes from the intense desert sun's glare. Wraparound styles offer additional protection from peripheral sunlight.
Buff or Neck Gaiter: A versatile and compact item, a buff or neck gaiter can be used as a neck warmer, headband, face mask, or to cover your ears when the weather gets chilly or windy. It provides added comfort during changing weather conditions.
Zion National Park Specific Gear to Pack
Zion National Park Map: A detailed park map is crucial for navigation.
Park Pass: A valid pass for park entry (annual or weekly). If you have ready any of my other blogs I highly suggesting purchasing an America the Beautiful annual pass.
Shuttle Tickets (if applicable): The Zion shuttle system is crucial during peak seasons. The park has been experimenting over the last few years about shuttle reservations. Be sure to check recreation.gov for up to date information.
Final Thoughts on Packing for Zion National Park
Packing for a trip to Zion National Park is all about being prepared for the ever-changing conditions. Whether you're visiting in spring, summer, fall, or winter, ensure that your clothing and gear are season-appropriate.
Day hikes, backpacking, or staying in designated campgrounds all come with specific gear requirements, so plan accordingly.
Additionally, don't forget essential weather gear and Zion-specific items to make your visit safe and enjoyable. With the right gear and knowledge, you'll be ready to explore the stunning beauty of Zion National Park year-round.