Welcome to the ultimate Yellowstone National Park packing list guide! Yellowstone is a haven for nature enthusiasts, offering geothermal wonders, stunning landscapes, and a diverse array of wildlife. To make the most of your trip to this iconic national park, being well-prepared is key.
Whether you're planning to hike through the park's pristine wilderness, camp under the starry skies, or witness the remarkable geysers and hot springs, knowing what to pack is essential. Yellowstone's unpredictable weather and varied terrain mean you'll need a versatile selection of clothing, gear, and essentials.
With the help of this Yellowstone packing list, you'll be well-equipped to embark on your journey and explore the natural wonders of America's first national park.
Trevorocity is reader-supported. When you buy through links on this site, we may earn an affiliate commission.
The Correct Clothing to Pack for Yellowstone
Spring (March - May)
Spring in Yellowstone is a time of renewal, with melting snow revealing fresh green landscapes and budding wildflowers. However, the weather can be unpredictable, ranging from chilly mornings to mild afternoons. Pack the following for a spring visit:
Thermal base layers to keep warm in the cooler mornings.
A lightweight, waterproof and windproof jacket for sudden rain or snow showers.
Moisture-wicking and breathable clothing for comfortable hiking.
Insulated gloves and a warm hat for cold mornings and evenings.
Sturdy, waterproof hiking boots for potentially muddy trails.
Sunglasses and sunscreen for sunnier days.
Layers for versatility: A mix of long-sleeve shirts and short-sleeve options.
Summer (June-August)
Summer is peak tourist season in Yellowstone, with warm days and mild evenings. It's the perfect time for outdoor adventures. Ensure you have the following for a summer visit:
Lightweight, moisture-wicking clothing for comfortable hiking.
A wide-brimmed hat and sunglasses for sun protection.
Breathable hiking socks and comfortable hiking boots.
A good supply of sunscreen and insect repellent.
Swimwear for enjoying the park's rivers, lakes, and hot springs.
Light rain jacket or windbreaker for occasional afternoon thunderstorms.
Don't forget a daypack to carry essentials while exploring.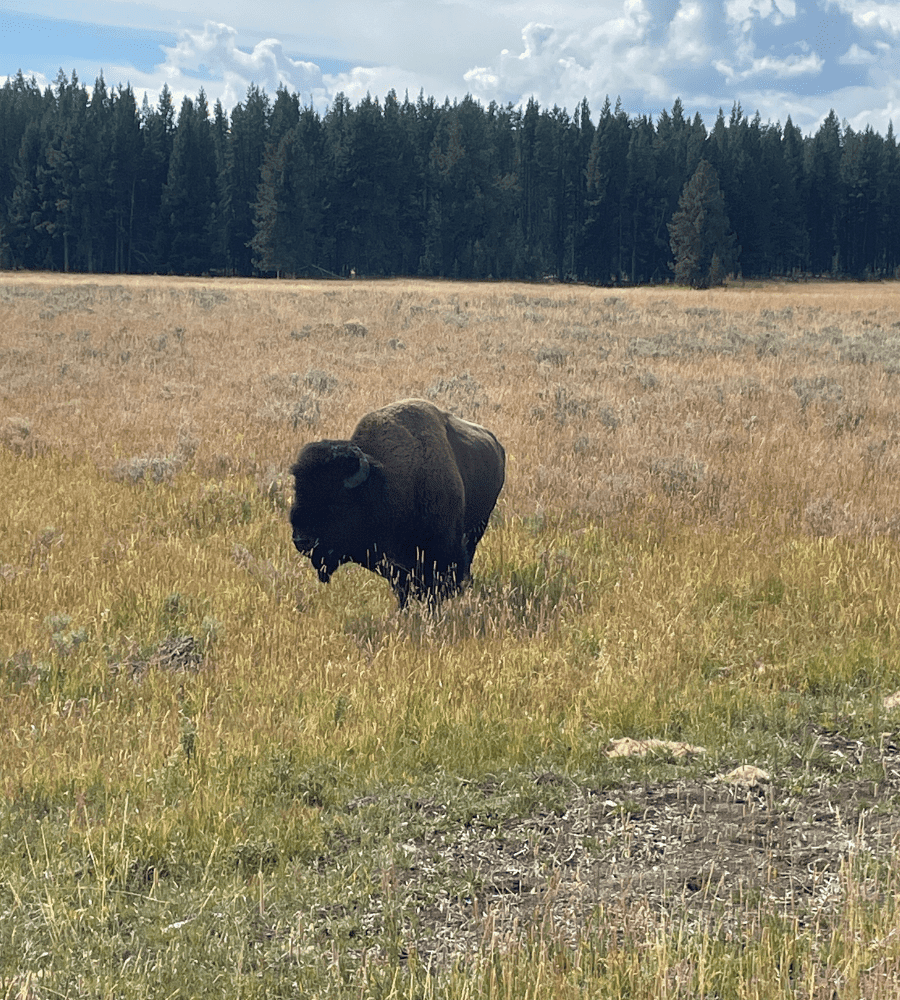 Fall (September - November)
Fall in Yellowstone is a time of breathtaking foliage and fewer crowds. However, the temperatures start to drop, and weather conditions become more unpredictable. Be prepared with:
Layered clothing, including thermal base layers for warmth.
A waterproof and insulated jacket for colder days.
Thermal gloves and a warm hat for chilly mornings and evenings.
Comfortable and sturdy hiking boots for varied terrain.
A mix of long and short-sleeve shirts, as days can still be warm.
Waterproof pants in case of rain or snow.
Winter (December - February)
Winter in Yellowstone transforms the park into a snowy wonderland. It's a season for experienced adventurers. Pack the following to stay safe and warm:
Insulated, waterproof, and windproof winter clothing.
Snow boots suitable for deep snow and cold temperatures.
Insulated, waterproof gloves and a thermal beanie.
Multiple layers, including thermal base layers.
Gaiters and warm socks to keep snow out of your boots.
Ski goggles and a face mask for blustery, snowy conditions.
Hand and foot warmers for added comfort during sub-zero temperatures.
Outdoor Gear for Yellowstone National Park Adventures
Day Hike(s)
For day hikers exploring Yellowstone's beauty in a single day, be sure to pack the following gear and footwear:
Footwear: Comfortable and sturdy hiking boots or trail shoes with good grip for traction.
Daypack: A lightweight daypack with room for water, snacks, and an extra layer.
Hiking Poles: Optional but useful for added stability and balance.
Water Bottle: Stay hydrated with a reusable water bottle.
Maps and Navigation: Always carry a park map and consider a GPS or compass.
Bear Spray: If you're hiking in bear country, carry bear spray and learn how to use it.
First Aid Kit: A basic kit for minor injuries or medical issues.
Camera: Capture the park's beauty with a camera or smartphone.
Binoculars: Enhance your wildlife and scenic viewing.
Insect Repellent: Protect yourself from pesky bugs while on the trail.
Trail Snacks: High-energy snacks like granola bars and trail mix.
Backpacking and Multi-Day Hikes
For multi-day backpacking expeditions in Yellowstone, the following gear, including footwear, is crucial:
Footwear: Durable hiking boots with ankle support, suitable for varied terrain.
Backpack: A spacious backpack designed for extended trips with adjustable straps.
Tent and Sleeping Gear: Lightweight tent, warm sleeping bag, and comfortable sleeping pad.
Cooking Equipment: Compact stove, cookware, and utensils.
Water Filtration: A reliable water filter or purification system for safe drinking water.
Food Storage: Bear-resistant containers for securely storing food.
Bear Spray: If you're hiking in bear country, carry bear spray and learn how to use it.
Backpacking Food: Lightweight, non-perishable meals for your entire journey.
Multi-tool or Knife: A versatile tool for various tasks on the trail.
Headlamp or Flashlight: Essential for hands-free visibility in the dark.
Toiletries: Travel-sized toiletries, including biodegradable soap.
Emergency Gear: Firestarter, first aid kit, and emergency communication device.
Permits!
*This list focuses on the three main backpacking seasons (Spring, Summer, and Fall). If you plan on hiking in the winter months please bring winter gear.*
Designated Campgrounds
Planning on hiking at a designated campground in Yellowstone National Park? Make sure you are prepared with the following items because shopping at the shops within park boundaries can get expensive fast! Be prepared with the following for your Yellowstone Packing List.
Footwear: Comfortable and waterproof camping boots, ideal for varied terrain.
Tent and Shelter: A sturdy tent suitable for camping in various conditions.
Sleeping Gear: Warm sleeping bags, sleeping pads, and pillows for a restful night's sleep.
Campsite Cooking: Portable stove, cookware, and utensils for preparing meals.
Camp Chairs: Lightweight and collapsible chairs for campfire comfort. This is one of the best purchases of my life for camping!
Camp Lighting: Lanterns or portable lights to illuminate your campsite.
Camping Food: Plan meals that can be easily prepared at your campsite.
Bear-Resistant Food Storage: Ensure proper food storage to prevent wildlife encounters.
Bear Spray: If you're hiking in bear country, carry bear spray and learn how to use it.
Campsite Reservation Information: Don't forget your camping permits and reservation details.
Clothesline and Clips: Useful for drying wet clothes or gear.
Entertainment: Books, games, or other forms of entertainment for downtime at the campsite.
Essential Weather Gear to Pack for Yellowstone National Park
Regardless of the season, Yellowstone's weather can be unpredictable. Proper weather protection and essentials are crucial for a comfortable and safe visit:
Rain Gear: Pack a waterproof jacket, pants, and a rain cover for your backpack to stay dry during sudden downpours.
Sun Protection: Yellowstone's high altitude means strong sun exposure. Bring a wide-brimmed hat, sunglasses with UV protection, and sunscreen.
Warm Hat and Gloves: Even in summer, chilly evenings and mornings can catch you off guard. Ensure you have a warm hat and gloves in your pack.
Insulating Layers: In cooler weather, bring insulating layers like fleece or down jackets to stay warm.
Weather App: Keep a weather app on your phone to stay updated on changing conditions.
Drysack: Bring a drysack to keep everything essentials (such as electronics) dry.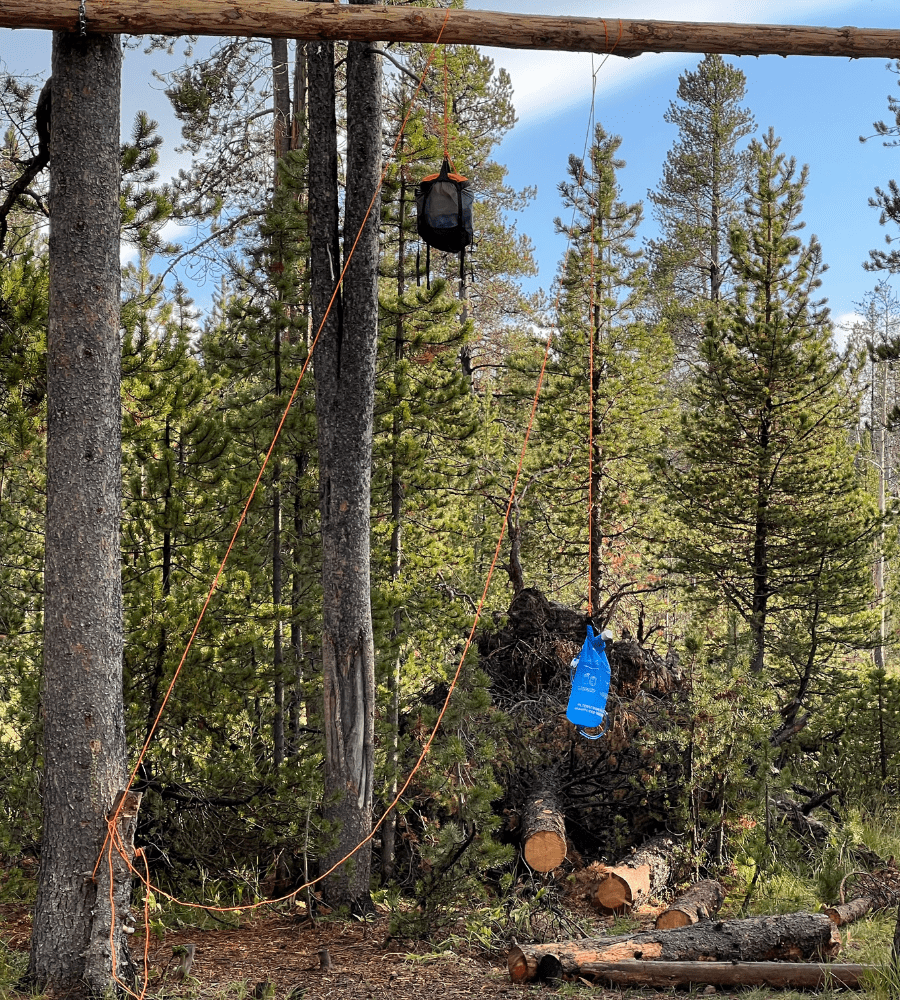 Yellowstone National Park Specific Gear to Pack
In our digital age, electronic gadgets and communication tools are important for your Yellowstone Packing List:
Smartphone: A smartphone can serve as a camera, GPS device, and emergency communication tool.
Charging Devices: Bring portable chargers or power banks to keep your devices charged while in the park.
Camera Gear: If you're a photography enthusiast, ensure you have your camera, extra batteries, and memory cards.
GPS or Navigation App: Download a reliable GPS or navigation app for offline use in case of limited cell service. Download trails from AllTrails, or other applications before arriving to the park!
Two-Way Radios: Useful for group communication when cell service is unavailable.
Headlamp or Flashlight: Essential for nighttime visibility in case you're caught out after dark.
Final Thoughts
As you conclude your packing preparations, remember that Yellowstone National Park offers a wealth of adventure, natural beauty, and unique experiences. Each season brings its own magic, so choose your clothing and gear wisely to match your trip's timing.
Take in the geothermal marvels, pristine landscapes, and the chance to witness wildlife in its natural habitat. Yellowstone is a place of stunning beauty and grandeur, so embrace it fully on your adventure!
Make any adjustments that fit your needs for this Yellowstone Packing List